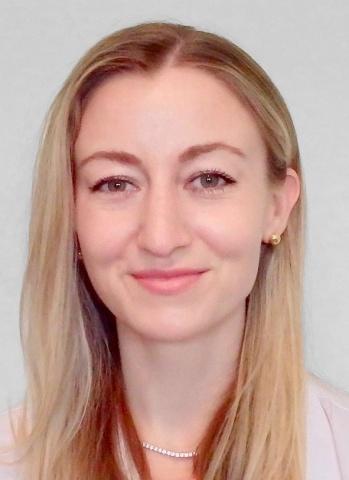 As a medical student, Paige Sutton, MD, received the following advice: choose a specialty where you won't constantly check your watch waiting for the day to end. Sutton chose neurology and neuroimmunology in particular and has never looked back. For this week's Spotlight interview, our current multiple sclerosis (MS) and neuroimmunology fellow talks about her time as a fellow so far, working with patients to make decisions that are best for their lifestyles and preferences, and enjoying hiking, playing the guitar and exploring North Carolina when she's not at Duke.
What are your current responsibilities as a multiple sclerosis and neuroimmunology fellow? What does a typical day look like for you?
In my role as an MS and neuroimmunology fellow, I spend about 80% of my time in the clinic setting. During this time I see a variety of neurologic conditions including multiple sclerosis, neuromyelitis optica spectrum disorder, MOG antibody associated disorder, autoimmune encephalitis and some even more rare neuroimmunologic conditions. 
Most of my clinic time is spent in MS and neuroimmunology. But I also have done some interesting and complementary rotations with rheumatology, urogynecology, neuro-ophthalmology and physical therapy. I'm also doing frequent rotations through botox clinic to treat patients with spasticity which has been great training for my future practice.
How and when did you get interested in neurology? How did you decide to focus on neuroimmunology and MS in particular?
I did not always know that I wanted to be a neurologist, but it was very clearly my favorite subject in medical school. During my first clinical clerkship in neurology, I was filled with enthusiasm and curiosity. Someone once told me that choosing a medical specialty is very simple. The only question to ask yourself is whether you look at your watch throughout the day wishing for the day to end. That was never the case with neurology. The organization of the central nervous system and ability to localize lesions based on history and exam alone has been endlessly fascinating to me. And I have never regretted choosing neurology as my specialty.
I was drawn to neuroimmunology by the opportunity to be involved in comprehensive care of patients with these chronic conditions. MS, for example, does not only require treatment to prevent relapses or progression. MS will affect numerous aspects of that patient's life. Symptoms will need to be managed, mental health should be addressed and the daily impacts of MS on each patient's life will change over time. In some ways, MS and neuroimmunology care is similar to primary care. In others, it is a highly specialized field filled with mysteries. This combination felt like the perfect fit for me as a clinician and one that feels most fulfilling.
What do you enjoy most about treating people with MS and neuroimmunological conditions?
Many patients we see in MS/neuroimmunology clinic are young and otherwise healthy. The diagnoses made are usually life altering. So gaining the trust of my patients is a top priority. My favorite part of the job is working together with my patients to figure out how we can align their MS care with their personal lifestyle and goals. With all of our options for disease-modifying therapy and symptom management, we are really able to individualize care. The field of MS/neuroimmunology also provides a wonderful opportunity to provide multidisciplinary care which has always been a goal of mine.
What plans do you have for after you complete your fellowship? If you could have any job in the world, what would it be?
This summer I will start a position as an MS and neuroimmunology specialist at OhioHealth in Columbus, Ohio. OhioHealth has a multidisciplinary clinic in place where I will spend the majority of my time. A few days per month will also be dedicated to botox for spasticity and a few weeks per year to inpatient service. I will be moving close to family which is an added plus.
If you're asking me for a reasonable dream job, it's the one I have. If you want to know my impossible dream job, I would be a backup dancer for Justin Timberlake.
What's one experience from your time as a fellow so far that's been especially memorable or useful to you?
One thing (of many) that has been great about fellowship is the flexibility and true focus on my education and preparation for my future career. Fellowship has allowed me time to travel to multiple MS conferences which I am incredibly grateful for. My time at CMSC was one of my favorites because it reminded me of just how big this small neurology community is. Everyone at the conference had the goal of learning to improve clinical care for our patients and the energy was inspiring. Aside from my time at conferences, I get to work with some of the best educators I have known in the MS/neuroimmunology department at Duke where I learn something new every day.     
What other passions or hobbies do you have outside of the Department?
My favorite activities outside of work include hiking, boating and going to outdoor restaurants and breweries with my husband and my dog. We have been soaking up the sun and feeling lucky to live in North Carolina this year. I am also taking guitar lessons this year to try something new and fun while I have more free time compared to residency and future jobs.