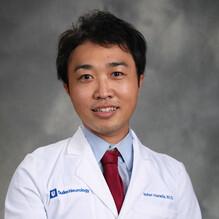 Yohei Harada, MD, first became interested in neurology as a medical student, when he was involved in a research project investigating possible therapeutic avenues for multiple sclerosis. The ability to localize and identify diseases through a patient's history and physical exam drew him to clinical neurology and neuromuscular disease in particular. Now, as one of our fellows in this subspecialty, he's performing electrophysiological studies and rotating in our neuromuscular clinics. In this week's "Spotlight' interview, Harada talks to us about this work, his research examining trends in payments to neuromuscular physicians from the pharmaceutical industry, and enjoying time with his family when he's not at Duke.
What are your current responsibilities as a neuromuscular fellow? What does your typical day look like?  
As a neuromuscular fellow, my primary responsibility is to perform and interpret electrophysiological studies such as nerve conduction study, repetitive nerve stimulation study, needle EMG and neuromuscular ultrasound. Also, I am rotating various neuromuscular clinics with neuromuscular attendings.  
My typical day starts with seeing the first patient at 8-8:30 am. Depending on the rotations, I see patients in either clinic or EMG lab. We typically have neuromuscular didactic lectures, research meeting or pathology conference between noon-1pm  
How and when did you first get interested in neurology? How did you decide to focus on neuromuscular disease in particular? 
I became interested in neurology when I was working at the neuroimmunology laboratory as a medical student. I was involved in research to investigate novel drugs to improve neuronal cell death in mouse models of multiple sclerosis. I was thrilled by learning about the molecular networking of the nervous system and excited about helping the preclinical stage of drug development. I was also fortunate enough to get to work with an excellent group of people in the lab who opened my eyes to the field of neurology.  
My favorite part of clinical neurology is "localization," which I believe is most of the neurologist's favorite too. When I was rotating neuromuscular, I found it fascinating that history taking and physical exam led to the anatomical and etiological localization of the disease. And the "hypothesized localization" was further supported by electrodiagnostic study or images. I really liked the diagnostic approach as it was not only intellectually fun but also rewarding especially when it determines the treatment for the disease. Although there are some neuromuscular diseases still difficult to treat, I am very optimistic and excited about the future of this field. Given the recent advancement in knowledge and understanding of the pathophysiology of diseases, I believe we are going into a new era of neuromuscular health!  
You were the lead author of a recent article examining trends in payments to neuromuscular physicians from the pharmaceutical industry. What were the key findings of that article, and what implications do they have for neurology as a whole? 
The research investigated the financial relationships between industry and US neuromuscular neurologists from 2014 to 2018 using an open payment database. There was a substantial increase (more than 6-fold) in the annual payments to neuromuscular physicians during the study period which is likely due to the development of new treatments. This emphasized how dramatically the care of neuromuscular diseases has changed recently. As we all know, there have been a lot of new drugs recently in this field including gene therapies and immune-modulatory treatments. 
What are you planning to do after you complete your fellowship? If you could have any job in the world, what would it be? 
I have been interested in an academic career as a physician scientist. Wherever I work, I will pursue my interest in neuromuscular diseases and help patients with neurological disorders through my expertise.  If I could have any job in the world, I would definitely want to be an archeologist. I really like human history and prehistory since when I was a child. If I did not find medicine this much fun, I would have chosen to be someone traveling around and enjoying the excavation of the sites!
What are you most looking forward to once the COVID-19 pandemic is over?
I am looking forward to going back to see my parents and friends in Japan when COVID-19 is over. I last visited there in January 2020, right before the COVID19 pandemic started. I am missing food over there too. Please let me know if you know good Japanese restaurants here in North Carolina!   
What other passions or hobbies do you have outside of the Department? 
I used to enjoy playing baseball when I was younger, but lately, I mainly spend free time with my 4 years old son by doing whatever he likes me to do. He was born right before residency and it has been a relaxing time for me during the busy training period. Lately, he learned how to ride a bike and I enjoy running with him which is actually a pretty good exercise for me!  
Harada poses with his wife, son, and Mickey Mouse during a visit to Hawaii.