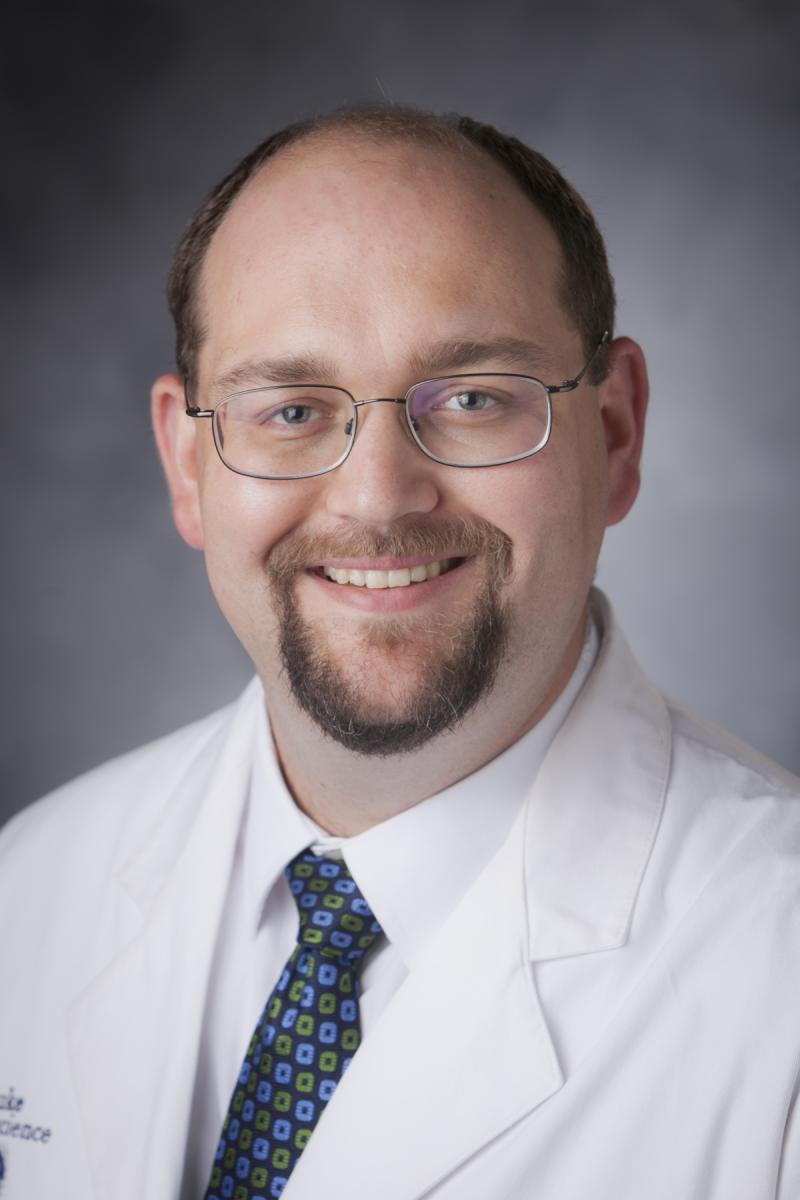 Neurological conditions do not occur in a vacuum. A patient hospitalized for a heart attack may suddenly have a stroke. A patient with a metastatic tumor could suddenly start having a seizure. Our providers within the new Division of Hospital Neurology specialize in helping patients with these complicated, overlapping conditions throughout Duke's three hospitals.
In this interview, Matt Luedke, MD, chief of the Neurology Department's division of Hospital Neurology, talks about this growing specialty, including where and how hospital neurologists typically treat patients, how they can help fill gaps in the hospital system, and some of the reasons why neurologists may want to consider specializing in this career.
What is Hospital Neurology, and how does it fit in with our other divisions?
We are a multi-specialty team of neurologists who provide inpatient care throughout the health system, in our case at Duke University, Duke Regional, and Duke Raleigh Hospitals. A lot of our Department's other divisions tend to be subspecialty focused and located in a single space. Our neurocritical care faculty, for example, provide comprehensive care, but exist within our neuro intensive care unit (NICU). But there are hundreds of neurology patients who may not be able to come to dedicated neuroscience units, often because they're also dealing with complex non-neurological issues. 
This is where our neurohospitalists shine: treating patients with liver failure in the medical ICU as they are having seizures; helping patients in the surgical ICU or cardio-thoracic ICU as they are having a stroke; or treating a patient in orthopedics who is having entrapment neuropathy. We bring neurological consultative care to all of our patients, regardless of service line.
If hospital neurology specialists don't have a set location, where do they typically see patients?
My motto is, "have reflex hammer, will travel." If you're an admitted patient in any Duke hospital, there's a chance you could see one of us. I treat patients in the emergency department, in intensive care units throughout the hospital, in the psychiatric inpatient unit, and other locations. I'm also an epilepsy specialist, so I spend time on our epilepsy monitoring unit and managing acute care in epilepsy. I also work with other neurology specialists when they have specific sub-specialty consultations.
Who makes up this new division at Duke?
We have dedicated providers at each of our three hospitals. I'm here at Duke University Hospital. At Durham Regional we have Matt Ehrlich, MD, MPH, and Yasmin O'Keefe, MD. At Duke Raleigh, we have Beth Marriott, MD, and Christian Hernandez, MD. Further I'm thrilled to say that our current stroke fellow Wayneho Kam, MD, will be joining our team in Raleigh and our clinical neurophysiology fellow Vishal Mandage, MD, join our team at Regional. Because of our rapidly expanding division, we're actively recruiting neurologists with a passion for inpatient care. 
Advanced Practice Providers (APPs) are also clearly part of the hospital neurology paradigm. They play a critical role in providing care. We currently have three APPs: Stacey Bennett, ACNP, Margarethe Goetz, PA-C, PhD, and John Howell II, ACNP. We are likely recruiting more in the future!
What training or backgrounds to hospital neurologists typically have?
Hospital neurology is united by people with interests in providing acute inpatient care to patients with neurological disease. It's not defined by a specific set of subspecialty training. I happen to be an epilepsy specialist as well as a neurohospitalist. Drs. O'Keefe and Hernandez, for example, are both neurointensivists and neurohospitalists. Dr. Marriott, at Duke Raleigh, and Dr. Ehrlich at Durham Regional are stroke specialists as well as neurohospitalists. 
We bring our subspecialty training with us, applying it to the patients we see personally and to our interactions with our colleagues. If I have a question about stroke or a question about ICU management I can ask Dr. O'Keefe. Or Dr. Ehrlich can call me and ask for my thoughts about a patient who's having a seizure.
Neurohospitalists also tend to take on administrative roles because we're deeply enmeshed in complex interdisciplinary practice. A lot of us have medical directorships. Dr. Marriott, is the stroke medical director over at Duke Raleigh. Dr. O'Keefe and Dr. Ehrlich, MD, MPH, share medical directorships at Durham Regional. I have various quality improvement roles in in the service line at Duke University Hospital, and until recently, I was the medical director of our 8W unit. Our leadership roles often dovetail with our subspecialty training.
How will hospital neurology impact our other clinical divisions?
I believe that we will have many opportunities to help our colleagues provide better patient care and improve their quality of life as providers. Firstly, hospital neurologists sometimes see things in ways that aren't always visible to outpatient neurologists. Hospital neurologists can sometimes be canaries in a coal mine because of the types of patients we see. Maybe a certain type of patient has to make return visits to the hospital because they aren't getting enough follow up care. Or maybe patients with a certain disease have frequent readmissions because they don't understand what to expect in the outpatient setting. Seeing enough patients like this allows us to give feedback and support our outpatient colleagues with their practice.
From a systems perspective I hope that hospital neurologists will be able to help keep our clinic neurologist in clinic and out of the hospital. When clinic doctors have to create a hole in their day to see a patient in the hospital, that means they're not able to see their growing number of patients in the outpatient setting. If we can see those hospital patients instead, our outpatient neurologists don't have to take time off of their day to go to the hospital. In the end I hope that will offer our outpatient neurologists quality of life while providing better access for patients.
What's one basic takeaway about how the division will affect our patients?
The number-one idea that I'd like to communicate to our patients is this division will provide consistency between Duke University Hospital, Duke Regional, and Duke Raleigh. If you have a neurological problem and you go to any of these three hospitals, you're going to get a top notch neurologist, who will provide you consistent Duke quality care. 
This consistency and increased communication has advantages for our Department as well. Our providers communicate and learn from each other across the hospital system. That allows us to share best practices, collaborate for recruitment, and work together to improve the already-high quality care we provide to patients.