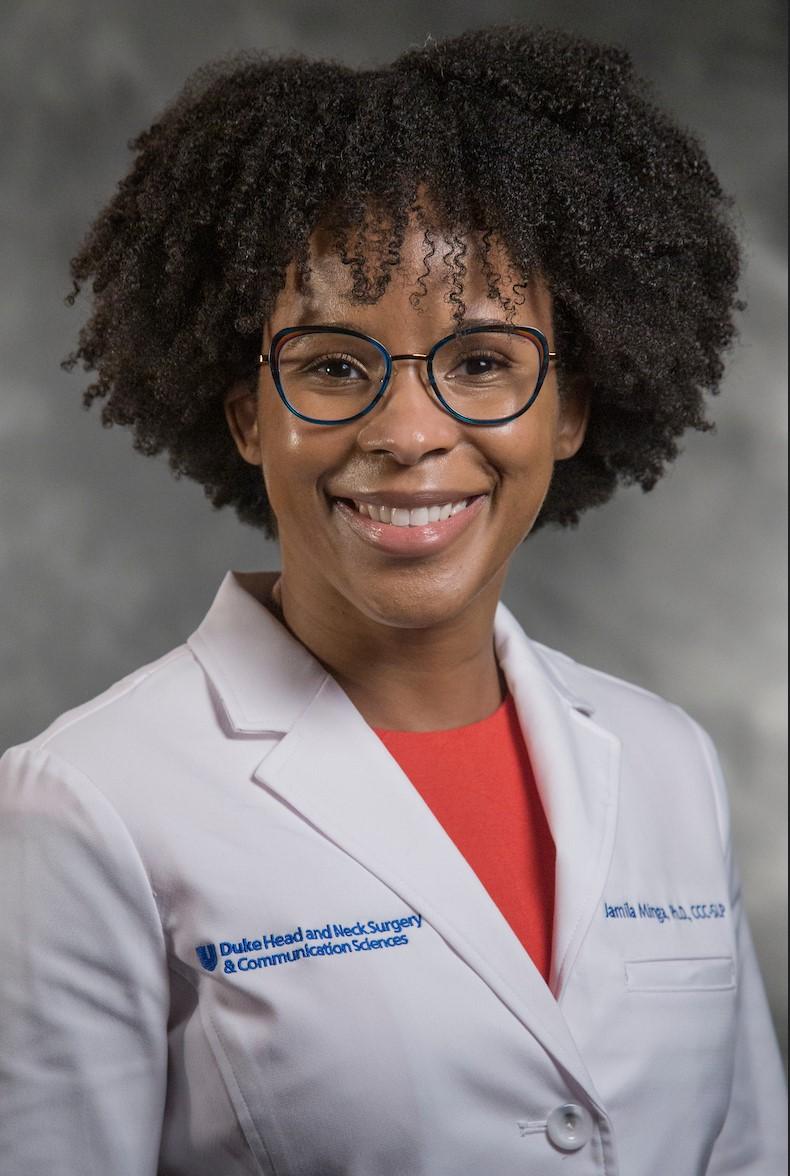 For as long as she can remember, Jamila Minga, PhD, CCC-SLP, has been something of a contrarian. "If most people are going left, I have a tendency to go right," she says. So when as a graduate student she found that most research on stroke rehabilitation had ignored how damage to the right side of the brain affected language and communication, she saw an opportunity. After earning her doctorate on the subject, she's a leading expert in the topic.
For our first "Profiles in Brain Sciences" interview of 2023, Minga talks to us about her work in the Departments of Neurology and Head and Neck Surgery & Communication Sciences. She discusses  her research investigating how people communicate differently after right hemisphere brain damage, including how those changes are affected by race. She also shares some of the joys and challenges of working with stroke survivors, and her loves of cooking, science fiction, and time with her family when she's not at work.
What are your current responsibilities within the Departments of Neurology and Head and Neck Surgery & Communication Sciences? What does a typical day look like for you?
I am responsible for advancing my research program and providing skilled speech-language therapy services to adults with communication disorders. Because my primary role is research advancement, I spend a great deal of my day reading the latest literature surrounding stroke, discourse, and language disorders; writing manuscripts for publication, and now that my NIH K23 was funded, I'll begin data collection, which is super exciting. One day each week, I serve as a clinician in Clinic 1I and provide treatment for individuals who have communication disorders.
How and when did you first get interested in stroke and stroke rehabilitation? What led you to focus on right hemisphere brain damage after stroke in particular?
My interest in stroke and stroke rehabilitation was sparked during my graduate studies to become a speech-language pathologist at the University of North Carolina at Chapel Hill.  I have always enjoyed being around older people, my grandparents, great uncles and aunts, especially, so I knew early on that I wanted to work with adults.  
My linguistic/sociolinguistic background and interests just fit naturally with stroke rehabilitation. My focus on right hemisphere damage began during my master's study when my professor gave an assignment to write about a language disorder and resources. I was, at the time, perplexed about why there was so much emphasis on the left hemisphere with very little regard for the right hemisphere contribution to communication. I have always been the type of person to not follow the majority. In fact, if most people are going left, I have a tendency to go right. I still have this paper and use it to reflect on the incremental changes that my research is contributing to the field. My clinical experience as a speech-language pathologist helped to solidify my research interests. 
I noticed that survivors of right hemisphere stroke did not receive treatment for communication but were having significant challenges with social exchanges.  Yet, there was very little literature to support treatment.  It was at this point that I decided to pursue a doctorate to contribute to the field.  This research area is only studied by a handful of researchers and there are so many gaps in knowledge that this can and will likely be my life's work—one that I am dedicated to and passionate about.
You are also an expert in cultural language analysis. Can you describe this concept and how it complements the rest of your work?
I'm not sure that I'd say an expert, but I certainly have interest in cultural linguistic interactions and analyses.  Let's say an expert in training.
Because my work is focused on pragmatic language use, language use that goes beyond the production and understanding of speech and language, there is a natural relationship with cultural-linguistics.  That is, it would be a great disservice to the survivors and the families of survivors if, in my quest to understand pragmatic language use impairments after right hemisphere stroke, I did not acknowledge and consider that pragmatic language use is culturally-based and learned.
Everyday interactions like this one and those that directly relate to patient care (i.e. conversations with physicians and other medical providers) necessitate a calibrated understanding of pragmatic language through a cultural lens to foster successful relationships and therapeutic interventions.
In addition to your other duties, you're working on a manuscript focusing on sex and race as well as a documentary. Could you briefly describe each of these projects and your involvement in them? 
The manuscript titled, "Intersectionality of race on question-asking in women after a right hemisphere stroke" is now in press with the Journal of Speech-Language and Hearing Sciences. 
I am the senior author on this seminal work and presented the findings at ANCDS recently. The manuscript was the first manuscript in the right-hemisphere-brain-damage literature in speech-language pathology to consider race as a mitigator of question-asking in a small group of women.
A few years ago, I discovered that adults with right hemisphere brain damage (RHD) don't ask questions as frequently and differently than adults who did not have a stroke. This was a pretty important finding for characterizing the right hemisphere communication impairment.
Since individuals that identify as Black in the U.S. have higher incidence of stroke and we know that sex-specific communication differences exist, I thought it prudent to examine the influence of race in a small subset of women. I also had a BIRCWH grant that promoted explorations of sex as a biologic variable in research.  In the study, we extracted and coded questions asked to meet the goal of getting to know an unfamiliar person during a first-time meeting – a first-encounter conversation.  Study findings were consistent with our hypothesis that race is a factor in question-asking. Specifically, we found that women that identified as Black asked fewer questions overall even if they did not survivor a right hemisphere stroke with Black women with RHD asking the fewest questions of all.
There are implications of this finding to healthcare interactions that might suggest that physicians and clinicians working with Black women may be more forthcoming with information rather than resting in questions asked by the patient.  This manuscript was a first step in being proactive concerning cultural-linguistic variations in pragmatic language use after a right hemisphere stroke.
To increase awareness of RHD and the impact that it has on survivors and their loved ones, I worked with a media specialist at NCCU, Michael Pearce, to develop a brief documentary. I wanted to catalog the experiences of the survivors and their loved ones. I hope that the documentary will be finalized by the spring so that we can conduct a viewing with survivors and community members. I hope that this documentary is the first of many to enhance awareness of the very real functional limitations caused by RHD.
What do you enjoy most about your work? 
I enjoy problem-solving so my body of work allows me to do just that daily. The challenge of characterizing the communication impairments experienced by survivors of right hemisphere stroke while learning and working with the survivors and their families is very enjoyable. 
What's the hardest part of your job?
Ha! The hardest part of my job is learning all of the Duke systems and mechanisms that allow me to get to the research, what I really enjoy.
What passions or hobbies do you have outside of work? I
love to read, run, and  cook. When not reading research articles, you'll find me exploring a new recipe or cookbook. I've established a goal to begin running marathons again with my husband, Reece. 
My husband and I love to watch sci-fi movies – it's our thing, so catching a movie with him, playing games with my children, Ezra, an inquisitive, energetic 7-year-old and Haielle (Hi-el) an extremely intelligent, compassionate 12-year-old are my passions and hobbies. My children play cello and violin, so we are always participating in orchestra or training opportunities with them which provide weekly enjoyment and relaxation.