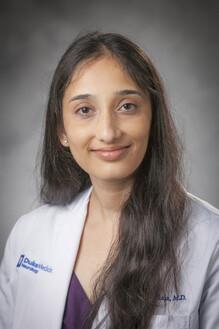 Shruti Raja, MD, MHS, assistant professor of neurology in the Duke University School of Medicine, has been named Faculty Director of the Duke Early Phase Research Unit (DEPRU). 
As part of the Duke Office of Clinical Research, the DEPRU team partners with pharmaceutical, biotech, medical device, government agencies, foundations, and academic centers to conduct a broad range of early phase studies. Dr. Raja has served as interim Faculty Director of DEPRU since February.
A board certified neurologist with subspecialty fellowship training in neuromuscular disease, electromyography, and neurology clinical drug development, Raja's clinical research interests focus on development of new therapeutics and outcome measures for serious and rare diseases and early phase clinical research. She has served as protocol and site principal investigator for numerous phase 1 and proof-of-concept clinical trials. 
Raja has served as the DEPRU Medical Director since 2019 and Medical Co-Director of the Duke Clinical Research at our Pickett Road facility since 2020. In these roles, she has developed and led complex collaborations across Duke for implementation of clinical trials and new contracts in multiple therapeutic areas.
"I look forward to expanding the DEPRU's role across campus so that DEPRU is not only a place for clinicians to perform site-based research but also becomes a place where translational research collaborations advance the care of patients across all therapeutic areas," said Raja.
"DEPRU provides a state-of-the-art research unit and services the needs of research subjects who require specialized monitoring during the course of their study visit," says Susanna Naggie, MD, Vice Dean of Clinical Research, Duke University School of Medicine. "Dr. Raja has a proven track record in early phase research, leadership, and administration. We are excited to have her serve in this important role."