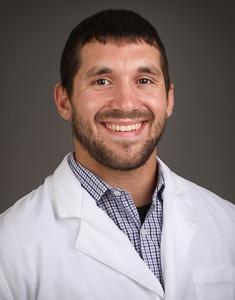 When he first entered Duke University as an undergraduate, Dylan Ryan, MD, wanted to study chemistry, before a growing interest in the life sciences drew him first to study biology and then to enter medical school. As a medical student, he found that he enjoyed both the intellectual problem-solving nature of the field as well as the close relationship neurology allowed him to build with his patients. For this week's "Spotlight" interview, the second-year Duke Neurology resident talks to us about completing his intern year during a global pandemic, what he's looking forward to during his residency, and relieving stress with weight-lifting, running, and wrestling when he's not at Duke.
Welcome to the Duke Neurology Department! How was your year as an internal medicine resident? What's one experience or component of the program that stood out for you?
The year on internal medicine can be a grind, but I definitely enjoyed getting to work with my medicine colleagues during the year. The Department of Medicine has a strong culture that implemented the prelim residents as if we were categorical residents. I really appreciated the strong medicine experience that I got to have during the year and will enjoy taking consult calls from my former co-residents. I am so thankful for their help through the year and for getting to take on this new experience with them during an unprecedented year.
How did the COVID-19 pandemic affect your PGY1 year? What's one positive resource or strategy that's helped you cope professionally or personally?
​It greatly changed the ambulatory experience through the year, as when clinics closed or went virtual, there was less of a role for residents as many of us were placed on home call as back up.  My vacation schedule changed as well, as my girlfriend, Leigh, and I were set to travel to the Caribbean, but cancelled due to the risks for ourselves and any potential exposure for patients.
I did get to use a week of my home call time to have extra time on the stroke service due to medicine interns being pulled off the neurology services to help with coverage elsewhere in the hospital. This was valuable in giving me some time to work with my future co-residents while also giving me some time in an area of neurology that I could see as a career path. 
Through the pandemic, I've tried to regularly talk with my family, and have leaned on Leigh for support. Knowing that they're always there to check on my own health and well being has greatly helped in digesting each day. The unconditional love that our dogs bring every time I walk through the door can quickly melt stress away as well.
How and when did you first become interested in neurology? What interests you the most about the field?
​I first became interested in neurology during my first year of medical school during the neurosciences block. I really hadn't considered the field at that time, but enjoyed the problem solving involved in localizing a specific problem or injury. The approach to problem solving was something I really appreciated as I found myself drawing out various pathways through my experiences. As I was able to rotate on neurology, I found myself further drawn to this approach to problem solving. I enjoyed correlating exam findings to various imaging modalities to develop a diagnosis, while also being able to foster unique relationships with patients. 
As I gained more experience on the wards and reflected on my own personal experiences, like my Godfather's stroke, I felt like neurology was the right specialty for me to pursue. I entered residency most interested in vascular neurology or neuro-oncology based on these experiences, as I very much enjoy the imaging components involved in these fields, but also the relationships one can develop with patients through what often can be life altering diagnoses. I am very much looking forward to exploring different aspects of neurology though as I complete my residency.
Before coming to medical school you attended Duke as an undergraduate. What was your major, and how does it inform your current work?
​While at Duke I double majored in Biology (concentration in molecular biology) and Chemistry. I initially started as a biomedical engineering and chemistry double major, and had not considered medical school. Chemistry was something I always intended to major in secondary to a wonderful experience through high school, as my high school chemistry teacher was an excellent mentor. Over my first few semesters I found more joy in the natural sciences, and as I explored the possibility of medicine, I found myself on that career trajectory.
In thinking about how topics like biology and chemistry have impacted my work, I appreciate how both of these fields have given me a respect for the subtle details and mechanisms that go into creating the big picture. I hope I can use these traits to appreciate why a certain medication or treatment modality might be chosen over another in connecting the small details to the larger overall picture in regards to care for patients.
What are you looking forward to the most about your residency experience?
​I'm looking forward to thoroughly being able to explore the possibilities in neurology in looking toward a career path. Part of what makes neurology exciting is how much active discovery is happening and the different opportunities someone could grab onto and run with. Duke is full of excellent mentors who I'm excited to have the opportunity to work with as I further develop my own style and approach to patients. With all this in mind, I'm looking forward to getting to be part of the culture that my co-residents have built alongside the program leadership.
What other passions or hobbies do you have outside of the Department?
​I grew up in New England as the son of a massive Boston sports' fan, so I'm quite vocal about my fandom of the Patriots, Red Sox, Celtics, and Bruins. I have different pins on my various white coats to further express my fandom through the hospital which also can be a fun conversation starter for patients. After moving here, I did attend about ten Carolina Hurricanes games, and as a New Englander who had lived in CT for a decade, the Hartford Whalers night was especially fun.
I also wrestled at Duke as well and during my fourth year of medical school started doing jiu jitsu, so I enjoyed grappling prior to the pandemic when I got the chance. During this year I was occasionally able to get over to the Duke Wrestling room to work out with the college team and provide a body for training, which was a great aspect about coming back to Duke. I've got a limited window where I can still pretend that I'm a heavyweight, and I appreciate that Coach Lanham still allows for me to play a role in his excellent program. I still enjoy weight lifting and try to run multiple times per week, which are good stress relievers outside the hospital.
Outside of those aspects I enjoy getting out to the dog park with Leigh and our dogs. They love playing fetch until they nearly fall over, which always puts a smile on our faces. Just being able to relax after long days is something I greatly appreciate.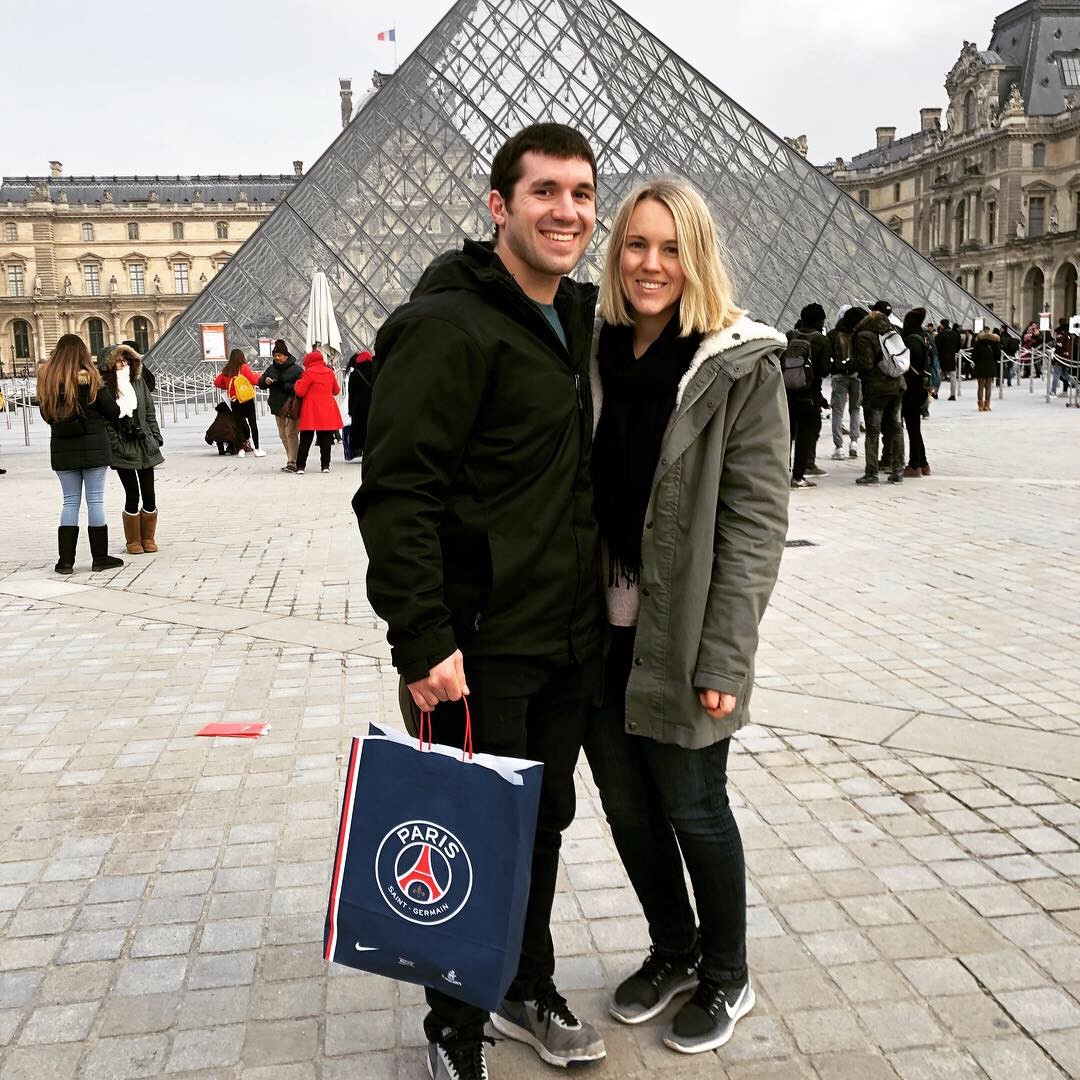 Ryan and Leigh visit the Louvre during a pre-COVID trip to Paris.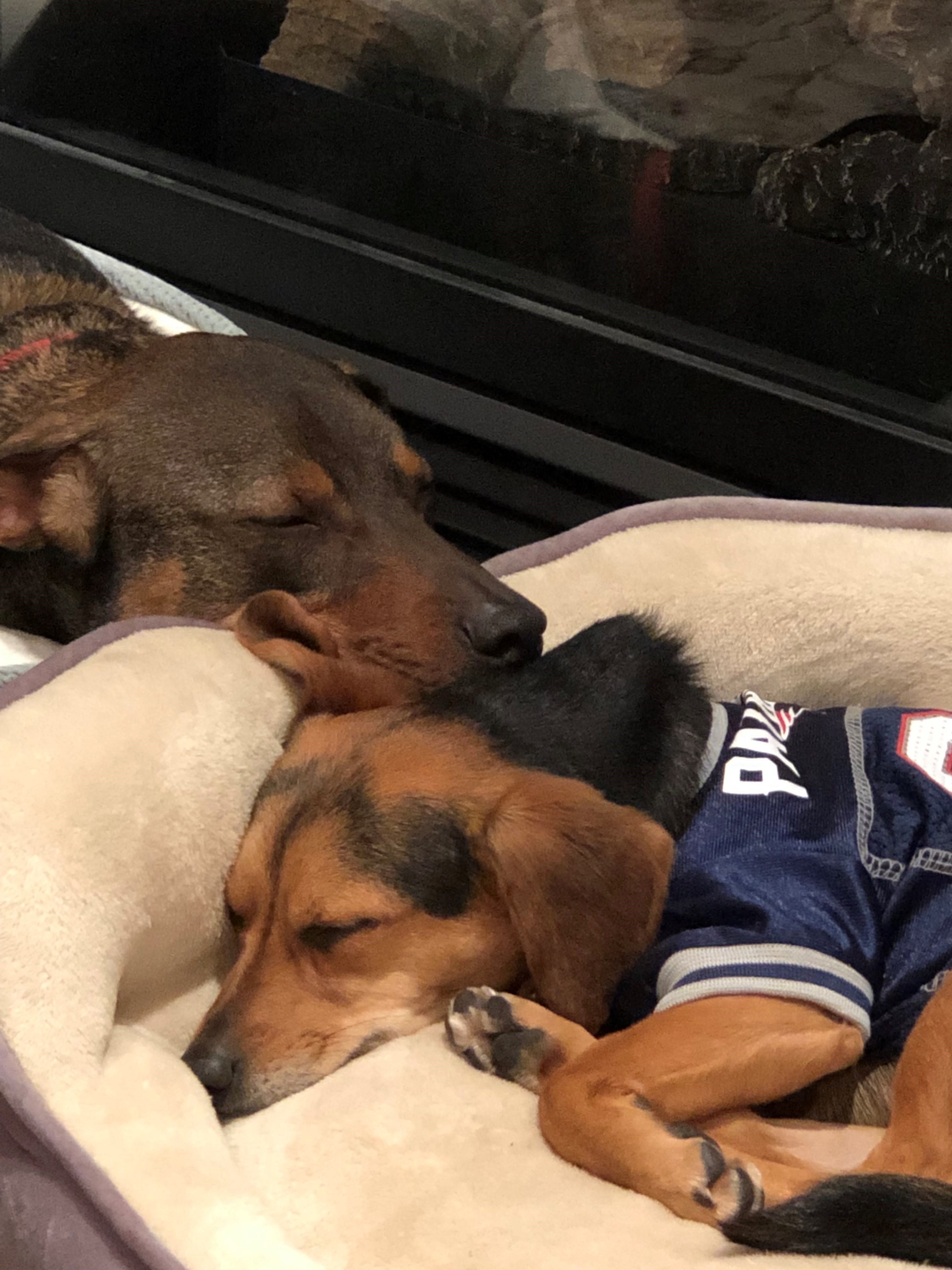 Ryan's dogs Rocky (left) and Skittles (right in Patriots' Jersey) take a break during the 2019 AFC Championship game.