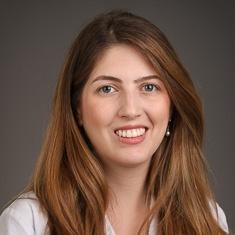 Lara Wadi, MD, first became interested in neurology during her first year of medical school, where she was both fascinated by her neuroscience courses and appreciated their clinical applications. Later, she volunteered in a nursing home in Lebanon, where she developed humbling relationships with individuals with diagnosis as well as her own interests in translational research. Now, she's a Senior Assistant Resident at the Duke Neurology Department, where she's refining her interest in clinical neurophysiology and epilepsy. In this week's Spotlight interview, Wadi talks to us about her experience as a resident so far, her plans for the future in academic medicine, and enjoying classical music, dance, and traveling when she's not at work.
What are your current responsibilities as a Senior Assistant Resident? What does a typical day look like for you?
My responsibilities and work days are variable depending on the clinical rotation that I am on. In the inpatient setting, I get to evaluate patients with a wide array of neurologic symptoms on the consult service, at times overseeing a junior assistant resident which is a great opportunity for teaching. Several weeks are dedicated to learning how to interpret EEGs and to care for patients admitted to the epilepsy monitoring unit. In the outpatient setting, I rotate in the EMG lab where I learn to perform and interpret nerve conduction studies and needle electromyography, in addition to seeing patients with neuromuscular disorders. Other outpatient weeks are dedicated to subspecialty clinics within neurology.
How and when did you first get interested in neurology? What disciplines or aspects of clinical care interest you the most?
I became interested in neurology during my first year of medical school. I thoroughly enjoyed my neurosciences and neuroanatomy courses and later appreciated their application in the clinical setting. My very first patient on the neurology service as a third-year medical student presented with fatigable ocular and bulbar weakness and I remember being very excited to localize the symptoms to the neuromuscular junction before obtaining confirmatory diagnostic tests.
I later volunteered in a nursing home in Lebanon where I played games and developed humbling relationships with individuals diagnosed with dementia. This encouraged me to participate in a translational research lab where some of my responsibilities included behavioral testing and EEG monitoring in rodent models of pediatric epilepsy. I realized that there was a lot to learn and potential for growth in the field. My fondness for neurology has continued to grow throughout residency and I have developed a particular interest in epilepsy which requires thorough history-taking and presents additional opportunities for localization based on spell semiology and complimentary electrodiagnostic studies.
Earlier this year you were part of a study that examined stroke preventability for patients treated with mechanical thrombectomy for large vessel occlusion. What were the main findings of that study, and how will they improve our ability to treat or understand strokes?
This was a retrospective study that looked at stroke preventability in patients with known large vessel occlusion who underwent mechanical thrombectomy. We used a stroke preventability score that included known vascular risk factors (hypertension, hyperlipidemia, atrial fibrillation, history of stroke/TIA/MI) and a scale to assess how well these risk factors were controlled at the time of presentation. We found that a large proportion of our study population had highly preventable strokes. High stroke preventability scores were mostly driven by inadequately treated atrial fibrillation, and this effect was greatest in the elderly.  
What's one experience or aspect of the residency program during your PGY-2 year that stands out as especially memorable or helpful to you?
There are many memorable experiences from PGY-2 year: rushing to a neurologic emergency consult for the first time, anxiously re-examining a patient after they've been given tPA and observing for symptomatic improvement, providing recommendations as a budding consultant to friends and colleagues from intern year, learning from and feeling supported by my co-residents and seniors.
What plans do you have for after you complete your residency? If you could have any job in the world, what would it be?
I plan to complete a fellowship in clinical neurophysiology and epilepsy and to pursue a career in an academic institution. I honestly can't think of another job that I would choose; I would probably still want to be a physician.
What other passions or hobbies do you have outside of the Department?
I play the piano and mostly enjoy classical music. I am passionate about dance, painting, and musicals. My husband and I enjoy hiking, exploring new trails in North Carolina, and traveling during our time off.
In this photo Wadi watches Elk in the Cataloochee Valley with her husband Jawan.