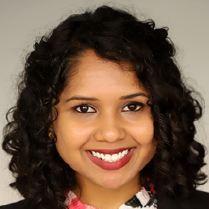 Tanziyah Muqeem, MD, PhD, has had a lifelong passion for the brain and neuroscience that has grown over time. She studied communication between neurons as an undergraduate, and then further focused her studies in that area for her doctorate in neuroscience. Now, she's a second-year resident in the Duke Neurology Department, where she's practicing her neurology exam in her clinical work and refining her scientific skills in the lab of Kafui Dzirasa, MD, PhD. For this week's Spotlight interview, Muqeem talks about this growing passion, her plans for the future, and her loves of reading, writing, and podcasts when she's not at Duke.
What are your current responsibilities as a Junior Assistant Resident? What does a typical day look like for you?
As a JAR, or PGY2 neurology resident, we begin our path to learning all aspects of neurology. Prior to this, we spent an entire year learning general medicine so this is our first opportunity to really immerse ourselves in our field of interest. The year consists primarily of inpatient rotations which include the stroke service, general service, consult service, and night float. We also gain exposure to various fields within neurology through outpatient rotations and electives.
Our main responsibility is to learn the ins and outs of the neurological exam, localization, and formulating thorough differential diagnoses. A typical day depends on the rotation but on inpatient services consists of rounds in the morning followed by admissions, teaching, and taking care of patient needs in the afternoon.
How and when did you first get interested in neurology? What disciplines or aspects of the field most interest you?
I have always had a strong interest in the brain as far as I can remember. In college, I was fascinated by how neurons communicated with one another to produce complex movements, sensory experiences, and thoughts. I further explored this interest during my PhD. By the time I got to my clinical rotations in medical school, I knew I wanted to pick a clinical field that would allow me to explore the brain and nervous system even further and neurology was the perfect fit.
The neurologic exam is what drew me to the field. It is unique in its ability to provide a vast amount of information through various maneuvers and tests. Many neurologists I have had the opportunity to work with are master clinicians in the art of physical diagnosis. I am very interested at this point in pursuing a career in movement disorders but am still exploring the many other disciplines in neurology!
What plans do you have for after your residency? If you could have any job in the world, what would it be?
After residency, I will likely pursue a fellowship to further hone my skills in a specific sub-field and obtain additional time for research in my field of interest. My ideal job as a neurologist would be one that blends patient care with research pursuits. I am ultimately interested in pushing the boundaries of our knowledge on the nervous system and its diseases as well as coming up with new ways to treat and alleviate conditions that impact the brain.
In addition to your medical degree you also have a PhD from Thomas Jefferson University. What was the focus of that work, and how does it complement your clinical interests?
My PhD was in neuroscience and I studied pain signaling. In particular, I looked at how voltage-gated potassium channels regulate synaptic signaling between neurons in the pain pathway. Prior work in the lab had identified a specific potassium channel that contributes to action potential morphology in dorsal root ganglion neurons (the first neuron in the pain pathway).
My work expanded on this prior work to show that the specific potassium channel we had been studying also modulates transmission of information to the next neuron in the pain pathway (in the dorsal horn of the spinal cord). The implication of this work is that this channel may ultimately be a good target for the treatment of neuropathic pain. If we can identify specific molecular targets that can regulate pain signaling, we can design better therapeutics for pain.
This work allowed me to really appreciate how complex the nervous system is. I continue to be interested in learning how neurons communicate to produce normal behavior and how these pathways can go awry to cause diseases of the nervous system.
As part of your residency you're involved in the lab of Kafui Dzirasa, MD, PhD. What is the focus of this work?
I was fortunate to be able to connect early on in my training with Dr. Kafui Dzirasa. He has made many significant contributions to our understanding of the neuronal circuitry that underlies emotion, mood, and behavior. I am interested in better understanding these same processes in neurologic diseases, and plan to focus on models of movement disorders.
Many diseases we see in neurology can arise from abnormal circuitry and neuronal communication, especially those we see in movement disorders such as Parkinson's, Tourette's, dyskinesias, and dystonias. There is also a fundamental contribution of mood and emotion to many of the symptoms we see in these patients, and I would like to study the underlying circuit mechanisms.
Earlier this year you completed internal medicine residency at the Duke Department of Medicine. What's one memory or experience from that time that stands out as especially valuable for you?
It's hard to pick just one memory or experience from my intern year! I was incredibly fortunate to work with talented, intelligent, and driven individuals that really enhanced my experience as an internal medicine intern. It was a steep learning curve but being surrounded by people who are humble and compassionate really made it all worthwhile. From the night-time Starbucks and Subway runs while on cardiology night float to the virtual internal medicine holiday party where the chiefs did a very original and hilarious choreographed dance, it was a truly memorable experience.
What other passions or hobbies do you have outside of the Department?
I really enjoy writing poetry and fiction. I also like to read, primarily fantasy novels as well as non-fiction. I love listening to podcasts about various topics and that ends up being how I get the majority of my news!
In this photo, Muqeem and her husband enjoy Carolina Beach.