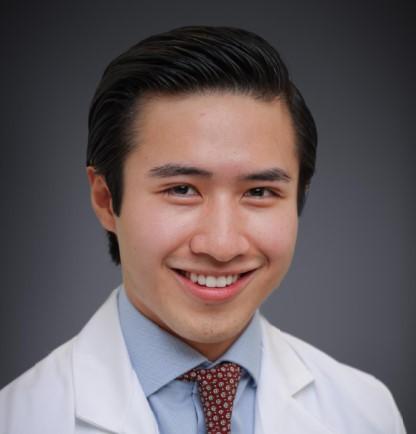 As a child, Vincent Chang, MD, LLM, dreamed of being an airline pilot, but a high school neuroscience course, and later, time interacting with stroke patients in medical school, convinced him to pursue neurology.
For this week's Spotlight interview, the second-year resident talks to us about his time treating patients, teaching medical students, and learning about different facets of neurology. He also talks about his master's in law degree and how it helps inform and broaden his experience as a clinician. Finally Chang shares how passion for collecting wristwatches grew into a side hustle and then a six-year business.
What are your current responsibilities as a Junior Assistant Resident? What does a typical workday look like for you?
First and foremost, my most important responsibility is to use the experience I've gained thus far during residency to provide care to my patients. As a junior resident, I also have the responsibility of teaching medical students and interns (whether it be through formal didactic teaching or "on the fly" teaching). 
A typical workday is quite variable depending on the service I am rotating on; in general, if I am on an inpatient service such as Stroke, General Neurology, or the Epilepsy Monitoring Unit, I arrive at 7 a.m. to review overnight events for my patients, before rounding on patients with my attending. At noon, we break for our mandatory Noon Conference, where we are provided with free lunch daily. My afternoons usually involve signing orders for my patients, coordinating care with other healthcare professionals, and admitting new patients onto the service. Finally, I head home anywhere from 5-7:30 p.m. after signing out my patients to the night team.
How and when did you first get interested in neurology? What disciplines or parts of neurology interest you the most?
I first became intrigued by neuroscience back in high school when I took a health science course and learned about neurons, neurotransmitters, and neural impulses. I was fascinated by how the nervous system communicates within itself as well as with the rest of the body, and the fact that this communication requires an intricate interplay between biology, physics, and chemistry. 
This fascination with neurology grew further during medical school when I began to learn how to translate my knowledge into the clinical context by seeing patients on the stroke service. At the moment, I still find every bit of neurology interesting and have not decided on pursuing any particular subspecialty; I foresee myself at least partially practicing general neurology. 
What plans (if any) do you have for after your residency? If you could have any job in the world, what would it be?
Even if I do decide on practicing as a general neurologist, I still anticipate myself wanting to undergo fellowship training after residency to further broaden my skillset; this would allow me to better serve my patients and provide better continuity of care.
Ever since I was a child, I've always loved everything aviation, and once dreamed of becoming a commercial airline pilot. The thought of taking off, cruising at 35,000 feet up in the air, and touching down at a new destination always excites me every time I fly. If it weren't for the sporadic schedule and the thought of having to be away from loved ones for a significant amount of time, I would've given it more thought!
In addition to your medical degree, you also have a LLM (master's in law) from the University of London. How did you decide to pursue that degree, and how does that knowledge complement or inform your clinical perspective?
I decided to pursue a master's degree in law because I wanted to view healthcare from a different perspective and because I was really interested in learning more about medical law and ethics. In addition, I hoped to gain skills I wouldn't have otherwise developed with my medical education, such as analytical skills to evaluate complex legal and ethical dilemmas. 
I also learned to challenge my own "gut reactions" to controversial topics, which I hope has made me aware of my own unconscious biases towards different patient groups. I learned to carefully consider and weigh up all sides of the story before making an argument; this assists with my clinical decision-making when there are multiple diagnostic or treatment options, for instance. Finally, I realized that the interests of different healthcare stakeholders (physicians, patients, Big Pharma, research subjects, administrators) all differ from each other, and sometimes one has to ​compromise to get things done in the healthcare field.
You also founded and ran Wound Up, an online business reselling new and pre-owned wristwatches. How did you decide on that pursuit, and what's the most interesting or memorable purchase you made (or sold)?
My love for collecting wristwatches began when my father gifted me my first watch. I was amazed by how automatic watches were powered solely by the movement of the wrist (without any need for batteries). The idea for Wound Up started off as a hobby; I always wanted to acquire new watches to build on my collection, and the only way I could afford them was to sell my existing watches. After I made a profit from my first sale, I realized there was something there and continued to grow my business. 
The most memorable purchase (and sale) I ever made was an unworn Patek Philippe "Gondolo" watch, in solid yellow gold, from the 1970s. It was in pristine condition (with the original tags still attached) and had been sitting inside an Italian collector's safe for decades. Part of me still wishes I had kept it for myself!
What's one experience from your internal medicine year that's stood out as particularly memorable or helpful for you?
One of the most memorable experiences of my internal medicine year would be my very first day on the job, in June 2022. I was lucky enough to start my residency training on the general neurology service, and was even luckier to have such supportive seniors, attendings, and advanced practice providers during my first rotation. 
On day one I was horrified, to say the least. The patience, encouragement, and reassurance that my team members provided me made me feel so welcomed; this truly embodied the culture at our program. I remember going home that day feeling so happy that I had chosen Duke Neurology to kickstart my career.
What other passions or hobbies do you have outside of the Department?
Apart from watch collecting, I enjoy traveling, exercising, and binging TV shows! I especially love traveling to Europe and visiting my friends in London. I try to travel internationally every vacation week during residency. Living 15 minutes away from the Raleigh-Durham airport certainly makes this easier.