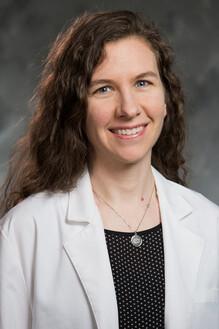 Fifteen years ago, Amanda Beaty, DPT, who was managing a human genotyping core facility, had only experienced physical therapy as an occasional patient. Now , as physical therapist she's combining her loves of physical movement with her interests in health and science while helping patients with neurological and other conditions at Duke. For this week's Spotlight interview, Beaty talks to us about her professional journey from the laboratory to helping patients with neurological conditions. She also talks about how her interests in science and dance inform her work and enjoying birdways, yoga, and the NC Museum of Art when she's not at work.
What are your current responsibilities at Duke? What does a typical day look like for you?
My current responsibilities at Duke involve providing physical therapy services to adults in the outpatient setting. I evaluate and treat patients with a wide variety of neurological conditions, as well as people with imbalance, falls, and general deconditioning. 
Most weekdays you can find me working with patients at Lenox Baker in the adult PT/OT clinic or in our therapy pool. On Tuesdays, I am part of the phenomenal multidisciplinary ALS Clinic team at Morreene Road, consulting with patients and their loved ones to maximize mobility, independence, safety, and quality of life.
Clinical and classroom education is another one of my responsibilities at Duke; I enjoy having long-term student interns, and I regularly serve as a TA in the Duke Doctor of Physical Therapy program's neurologic course sequence. A typical full clinic day involves 1-on-1 patient care from 8 a.m. until about 5 or 5:30 p.m., after which I'm wrapping up documentation, messages to patients or providers, and preparing for the next day. My days at Lenox Baker are very physical, varied, and fast-paced.
How and when did you first decide to pursue physical therapy?
It was a journey. After completing my masters degree in 2007, I became a co-manager of a human genotyping core facility. I was also dancing (taking class, teaching, rehearsing, and performing) in the evenings and on weekends. I had only experienced physical therapy as a patient, rehabbing some dance-related injuries. A few years into my lab job, I realized that my future needed to lay outside of laboratory research--somewhere I could be of service to others in a more immediate and tangible way.
The profession of PT melded my love and curiosity of movement with my interests in health and science. It took a few years to initiate the process of applying to DPT programs while I juggled working full time, taking prerequisites, and shadowing. I realized PT was my calling once I began to volunteer/shadow in clinical settings. Changing careers was a huge leap of faith and I am so thankful for my spouse, friends, and family for their support during that time.  
What made you decide to focus on helping patients with neurological conditions in particular?
In PT school I had the privilege of taking neuroanatomy with Dr. Len White; it was mind-blowing (pun-intended) and set the stage for my eventual practice interests. How could you not be fascinated by the human brain?!
During my early PT clinical experiences, I found myself drawn to those involving patients with neurological conditions and my interests took off from there. The complexity and multidisciplinary aspect of working with these individuals are what make the work so rewarding.
One of the great things about being a neuro PT is the incredible variety it affords; no day, patient, or treatment session is the same as the one before. You have to be creative, prepared, and resourceful.
Before earning your DPT you studied both genetics research and dance. How does that previous knowledge complement or influence your current work?
My experience in genetics research gave me a solid appreciation for the efforts that go into our understanding of human diseases, medical treatments, and PT interventions. It also helped me be a better consumer of the scientific literature when seeking guidance on clinical questions.
Dance informs my clinical practice in so many ways. It has taught me how to listen, empathize, and collaborate, and how to be fully present with someone. As a dancer and dance teacher, I used (without really knowing it) concepts of motor learning that apply directly to my work in PT. The skilled use of imagery, cues, repetition, and feedback for teaching and learning movement is central to both dance and neurologic physical therapy. 
What do you enjoy most about your work?
I love developing a relationship with my patients and helping them meet their goals over the course of their recovery or illness. It is satisfying to witness the progress people can achieve with the right encouragement, challenge, equipment, and guidance. To be even a small part of someone's return to living is a blessing.
What's the hardest part of your job?
One of the hardest parts is witnessing functional decline in my patients with degenerative neurological diseases. As a PT, I get to spend a lot of time with my patients and grow to know many of them well.  We are with them as they battle debilitating and sometimes fatal diseases, and that can take a toll some days. You wonder if what you have to offer will make a difference. It helps me to keep in mind Dr. Rick Bedlack's words: "There is always something you can do to help your patient."
What's one thing you wished more patients and their loved ones knew about physical therapy?
I wished more patients and loved ones knew that PT is an option for them and that it can make a significant impact on their quality of life, especially if they can commit to making exercise a part of their daily routine.
What other passions or hobbies do you have outside of the Department?
I enjoy yoga, birdwatching, exploring local trails and greenways with my husband, and spending quality time with our 18 year old cat, Kona. I also love visiting the NC Museum of Art whenever I can; it is a place of peace and rejuvenation for me.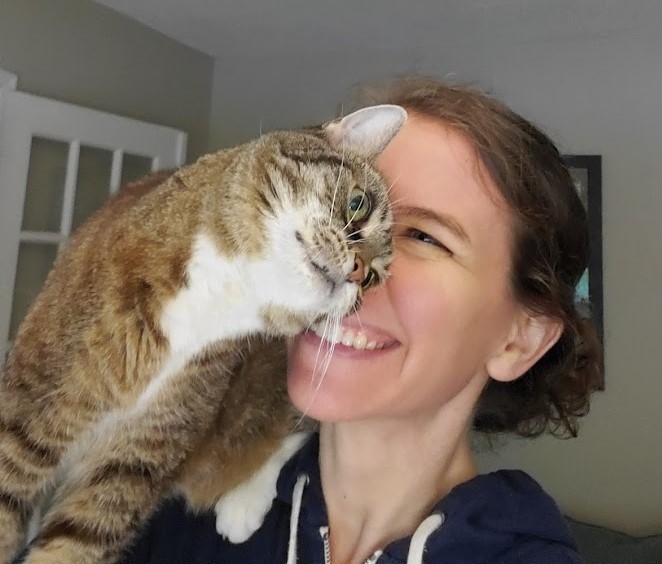 Beaty enjoys time with her husband and cat, Kona, when she's not at Duke.