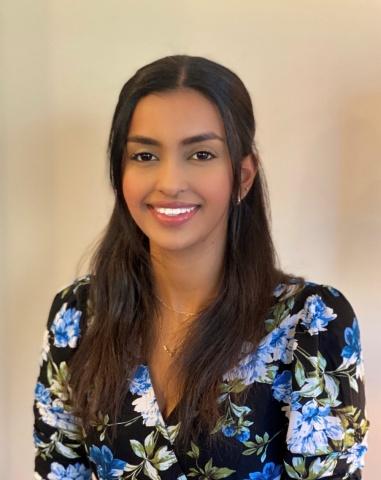 This week's "Spotlight" interview shines on Amy Obssi, our newest clinical research coordinator in the division of Memory Disorders. Obssi talks to us about her role in helping to conduct research into treatments for Alzheimer's disease and other dementias both at Duke and in her previous role at Toronto Western Hospital. She also talks about the pleasure of building,therapeutic connections and relationships with patients, adjusting to living in the Triangle from her former home, and enjoying kayaking, the outdoors, and the occasional episode of reality television when she's not at work. 
What are your current responsibilities within the Neurology Department? What does a typical day look like for you? 
I've just recently joined Duke Neurology as a Clinical Research Coordinator in the Memory Disorders Division, where I will primarily be working in Memory Research Clinical Trials. As I am relatively new, I've been picking up my day-to-day activities by delving into trainings, getting accustomed to the workflow, reviewing study specific protocols, and attending meetings.  
What were you doing before you came to the Neurology Department? How does that work compare to your current position? 
Before joining Duke, I was working in the Memory Clinic at Toronto Western Hospital University Health Network, as a research coordinator within the Neurology Department. Much of my duties included conducting various clinical trials and observational studies in people with Alzheimer's disease, along with administering a vast array of neuropsychological assessments in those with conditions such as mild cognitive impairment, vascular cognitive impairment, Alzheimer's disease, frontotemporal dementia, progressive supranuclear palsy, Parkinson's disease, as well as healthy volunteers. 
A lot of my duties in my current position crossover with the previous work I did at Toronto Western Hospital. However, despite all the experience I've gained, there has already been so much I have learned in my short time being here, and there is still so much more to embark on in this field. I'm excited to continue exploring and learning something new every day.  
I've always loved working in the field of neurology, in particular within the Memory Disorders group, and I've been lucky enough to have this opportunity to continue contributing to the field and this research organization; all while doing what I love, here at Duke.  
What do you enjoy most about your work? 
Simply put, it comes down to the people I meet. I enjoy interacting with this patient population. Building trusting therapeutic connections and relationships with patients has always been the most rewarding feeling. In all the big and small ways, making a difference in the lives of patients is the most gratifying feeling about this job. I've had many heartfelt and rewarding experiences with those I've met through working in this field and through clinical trials that have played a huge role in why I love my job and this career the most.  
What's the hardest part of your job?  
Given the complex nature of Alzheimer's disease, not being able to have more effective therapies to cure this disease is the hardest part of my job. The time commitment required and sacrifices that patients and families make when joining a trial is often overlooked. 
It's important to remember that not only do people join research studies to try to help themselves, among other reasons, but they also share a common goal, in hopes that one day their participation will give back to clinical research as a whole. Whether it be finding effective therapies, contributing future scientific research or the hope that in the future, people with the same or similar condition will not have to suffer as they have. Alzheimer's disease research has come so far, but there is still so much more to learn. 
You're coming to Duke from Toronto. What's surprised you the most about your time in the Triangle so far? What do you miss the most from your former home? 
Well first off, I'm not missing any of the Toronto winter weather, that's for sure! Coming from an enormous city like Toronto, one thing that surprised me the most during my time here has been not seeing as many buses, cyclists, and pedestrians on the roads, which are the main forms of transportation you would typically see in Toronto. That, tied in with Toronto traffic is something that I've been accustomed to. Although there can be quite a bit of traffic here in the Triangle too, I've found driving here to be a tad bit easier. 
I would say hands down the hardest part of my job currently has been being away from home. I was born, raised and lived in Toronto all my life; Canada is home. My parents and my boyfriend back at home, have always been the most supportive people in my life and it has been hard not being with them as much as I used to. 
However, we talk on a daily basis, and they continue to support me and help me become stronger every day. I'm so lucky to have family here in North Carolina who make me feel like I have a piece of home with me here. Moving to the United States has been a huge transition, but everyone in my Department has been amazing and have gone out of their way to make me feel so welcomed! 
What passions or hobbies do you have outside of Duke?  
When I'm not working, I spend most of my time with my family here in NC; they are the most important thing to me. Otherwise, I love being outdoors and staying active, whether it be camping, hiking, canoeing, and kayaking, among other things. If I'm not being active, you can probably catch me relaxing at home watching reality television.