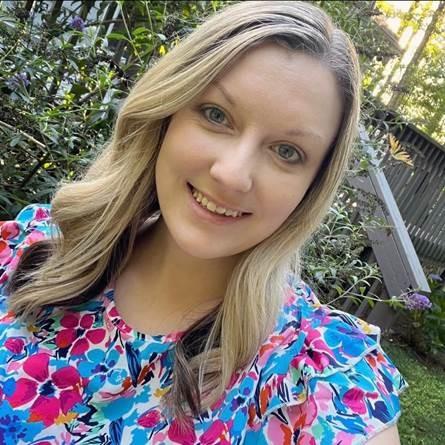 The challenges of providing healthcare go far beyond diagnosis, monitoring, and treatment. Patient and provider schedules have to be constantly organized, updated, and communicated to ensure functioning clinics and provide adequate care. Ashley Ladd, the subject of this week's Spotlight interview, takes on these duties and more for patients with epilepsy, sleep disorder, and other related conditions.
In her Spotlight interview, Ladd talks to us about the joys and challenges of her work, and how her previous clinic experience prepared her to be understanding and compassionate to every patient she talks to. Ladd also talks about her dream of opening a bakery and enjoying concerts, museums, and trips to the mountains and beaches when she's not at work.
What are your current responsibilities in the Duke Neurology Department? What does a typical workday look like for you?
I am an administrative assistant working in the Hock Plaza building, in the Neurology Division of Epilepsy, Clinical Neurophysiology, and Sleep. I am responsible for managing providers schedules, clinic flow, and assisting with their patients. A typical workday involves answering phone calls from patients with concerns and reschedule requests, speaking with outside clinics regarding referrals, and answering emails and in-baskets to assist with managing patient care.
What were you doing before you came to this position? How does that work compare to what you're doing now?
Before joining the neurology team, I worked with nephrology here at Duke as a staff assistant. That position helped me gain additional knowledge on how to manage complex clinic schedules, as theirs included dialysis and hospital rounding. Communicating with their patients with chronic kidney disease helped prepare me for a new patient demographic with neurology, as these patients need someone who is understanding and compassionate on the phone assisting with their scheduling and clinic needs.
What do you enjoy most about your work?
I enjoy being able to help patients and the overall work environment. Speaking with patients on the phone and addressing their needs and concerns and making them feel heard is important and makes me feel good when they are ending the conversation feeling much better than when they first called. 
A good work environment is important, and having wonderful coworkers and providers makes it enjoyable.
What's the hardest part of your job?
The hardest part is not being able to accommodate a patient when they are scheduling a new referral due to our clinic capacity. We do our best to reassure and have wait lists available, it is just hard when they give you the history of what they or their child has been struggling with for some time.
What's your dream job? If you could have any job in the world, what would it be?
I would have my own bakery.  I love to make custom cakes, cupcakes, and tarts for friends and family, and owning my own shop has always been a dream.
What passions or hobbies do you have outside of work?
Outside of work I love spending time with my family, we attend sports games and concerts together often.  My son and I love to go to museums and parks, and take trips to the mountains and the beach with our dog, Riley.