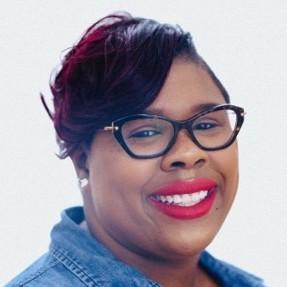 Within the lab of Carlene Moore, PhD, Ashley Moore, MS, MAT, (no relation) does "a little bit of everything," acting as a lab manager, performing western blots, teaching and guiding undergraduate research students and more--and that's just how she likes it. For this week's Spotlight interview, Moore talks to us about this work, how her five years of experience as a public school teacher inform her work, and loving concerts and baking for family and friends when she's not at work.
What are your current responsibilities in the lab of Carlene Moore, PhD? What does a typical day look like for you?
I am currently a research technician for Dr. Moore's lab and I do some lab manager-like activities. A typical day may include some western blots, immunohistochemistry, ordering some items, helping out the undergraduate students, and some imaging on the scope. I do a little bit of everything, and that's the best thing about working for Dr. Moore. She has taught me a lot of new skills and refreshed some old ones.
Before coming to the Neurology Department you were a chemistry teacher. What inspired the switch to research, and how did you choose to focus on neuroscience in particular?
So, I actually was a research scientist turned teacher. I went to school and was trained to become a biochemist, but kind of fell into teaching accidentally while in graduate school and I loved it. After graduating I applied to both teaching and research jobs and took a teaching job first. 
In 2017 I began a PhD program at NCSU because I wanted to research and teach at the same time, but then I realized that particular program was not for me. Being there did make me realize that I really wanted to get back into research. My mom was diagnosed with multiple sclerosis in 2002 when I was 11 so I always wanted to solve that problem and gain a better understanding of what MS was and how it affected her.
How does your experience as a teacher inform your current work?
Teaching definitely assists in this job because I currently have an undergraduate student that I am training and my teaching experience helps with this. It's pretty much just like teaching because I am teaching her about the science involved in the techniques she is learning. Since I was a high school chemistry/biology teacher I know the basic fundamentals of the science involved in the techniques. I am pretty capable of breaking the science down to terms that students can understand because that's what I did for the past 5.5 years.
What do you enjoy most about working in the Neurology Department?
The people are so nice! I've only been here since February and every one I have encountered is so nice and helpful. It's like everyone is always open to you using a machine they may have or just general conversation. I really like that about everyone. I also really like the people I work with on a daily basis. They have really made this transition back into science an easy one. 
Also, as cliché as it sounds I really enjoy working for Dr. Moore. She is legitimately the perfect PI. She turns everything into a teachable moment and always asks me what I think we should do next. She really makes me feel like I am a partner and not a subordinate when it comes to things like experimental design and troubleshooting. She's always asking me what do I think we should do next, I really appreciate that.  
What's the hardest part of your job?
I think the hardest part of my job is balancing my time between managing the lab and doing my technician work. Majority of the time if someone is looking for something or needs to order something it's my responsibility as well as my own research work. I also think presentations are the hardest. Although I'm a very personable person I don't like public speaking because it makes me so nervous.
What are you most looking forward to once the COVID-19 pandemic is over?
CONCERTS! I love seeing music live – my husband and I are concert junkies and that is the one thing I miss the most.
What other passions or hobbies do you have outside of the Department?
I love baking – in graduate school I kind of started a small baking business but I stopped because it started getting too big. I do enjoy baking for my family and friends whenever I get the chance. Also trying new brunch spots in the area. My girlfriends and I call ourselves the "Brunch Buddies" because we go to a new brunch spot at least once a month. It's always fun trying new food.
Moore enjoys a visit to Disney World in the photo above and poses with her dog in the photo below.