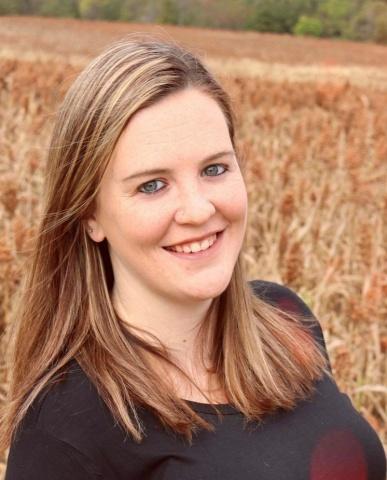 As one of the Grants & Contracts Administrators within the School of Medicine's Research Administration Support Resource (RASR), Kathryn Lennon helps manage funded research projects from the cradle to the grave. For this week's "Spotlight" interview, Lennon talks to us about what she enjoys most about her work, shares the favorite grant she's currently a part of), and enjoying her farm with Nigerian goats and a miniature donkey as well as visiting state parks with her family when she's not at Duke.
What are your current responsibilities within RASR and the Neurology Department? What does a typical day look like for you? 
I do cradle to grave management of sponsored research. I assist principal investigators with application for funding from both federal and non-federal sources, and then continue to manage the awards through their lifecycle. I help prepare sponsor required progress reports, provide projection reports so they know how their spending compares to the plan, and am here to assist the PIs in any way that I can to make the whole process easier on them.
Before coming to Duke, you worked as a grants specialist at UNC-Greensboro. How did that work compare to your current position? What's the biggest difference between your work there and your current job?
At UNCG, I primarily managed paperwork and filing for the entire post award grants team but did a little bit of post -ward management for small awards. I also ran monthly and quarterly reports. Here at Duke, I am able to work on both pre- and post-award tasks and interact with the PIs on a more personal level. At UNCG, there were 9 people in the post award side for the entire university, so it's safe to say that the Duke grants team is much bigger. I was able to bring a little bit of knowledge from my time at UNCG here to Duke which I think really helped me early on in my new role.
What do you enjoy most about your work?
I love getting to know the PI and the research that they do. I get to see what innovations that are coming out of Duke and that's really exciting.
What grant that you're working on now are you most interested in or excited by?
My favorite grant right now would be one that a PI is applying to that focuses on women and minorities in their career growth. I think it is so important to provide ways for people to succeed in all levels of employment, and being an early stage investigator along with being female it can be difficult. I love that there are sponsors out there that focus on the early career PIs and helping them to advance in their careers rather than focusing only on experienced PIs that have been researching for a long time.
What's the hardest part of your job?
I think the hardest part of my job was starting the position remotely. RASR is a great department to be a part of, and you can tell everyone is really close and happy to help if you need it! Starting a role in a remote setting can make it difficult to get to know your coworkers, but we make an effort at all staff meetings to interact with new people which I think has been great and super helpful.
What is the biggest change you see coming in your field over the next decade?
The remote work atmosphere is a huge change that was brought on from the COVID-19 pandemic, and I think we will see it evolve even more over the next 10 years.
What are you most looking forward to once the COVID-19 pandemic is over?
I am most looking forward to returning to "normal." I have a five year old and an almost-two year old. I want them to have a normal childhood, where they don't need to wear masks everywhere they go and can have proper interactions with other children their age.
What other passions or hobbies do you have outside of the Department?
We got a camper at the beginning of the summer, and my husband and I love to take the kids every chance we get! We have hit multiple state parks as well as Jellystone campgrounds trying to give the kids memories they can look back on and smile while bringing our little family closer together. We also have a mini farm with Nigerian Dwarf goats and a miniature donkey named Ghost. We hope to expand our farm in the near future to include horses and chickens!

Lennon poses with her two children while on a ferry.