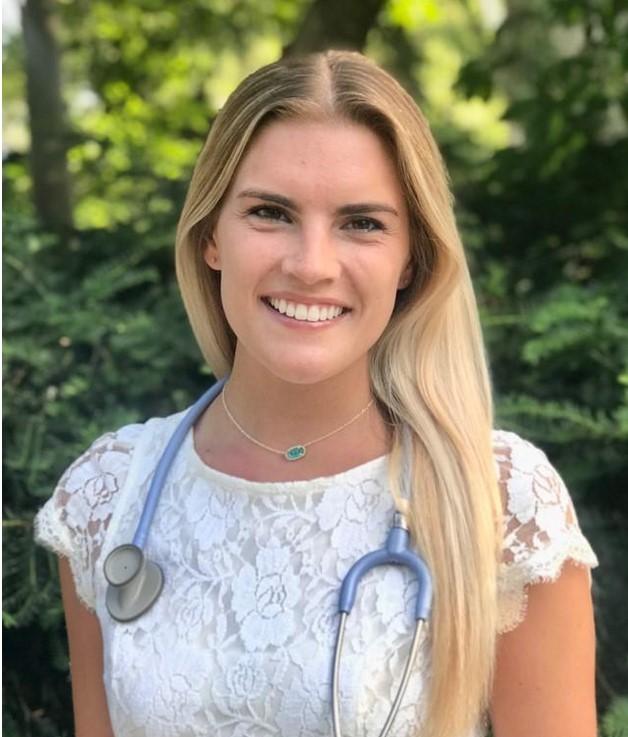 Madeline Heintschel became interested in health care as a high school student after volunteering to help patients at a local hospital. She decided to pursue nursing and came to Duke University Hospital, where she has worked in our Neuro ICU for almost five years. For this week's Spotlight interview, Heintschel talks to us about daily her work as a preceptor, charge nurse and stroke expert. She also shares the joys and challenges of her work, her hopes to expand her skillset with a family nurse practitioner degree, and enjoying traveling and enjoying the outdoors with her husband and Golden Retriever Daisy.
What are your current responsibilities in the Neuro ICU? What does a typical day look like for you?
I am a preceptor and charge nurse in the Neuro ICU. I also serve as a stroke expert in which I audit documentation for tPA and thrombectomy patients that come to our unit. My days look different depending on the role I am filling, whether it be a bedside shift on my own, a bedside shift precepting, a charge shift, or as the resource nurse for the unit.
How did you decide to pursue nursing? What brought you to the Duke Central Tower?
I chose nursing knowing that I wanted to be in the health care field. I spent time volunteering in a hospital during high school and enjoyed interacting with patients. I liked the idea of being the caregiver at the bedside, coordinating and participating in all aspects of patients' care. I graduated with a Bachelor of Science in human biology from Michigan State University, and again with a BSN, also from MSU. Once I graduated, exploring a new state appealed to me and brought me to North Carolina. I have now been an RN in the Neuro ICU for 4.5 years, beginning in the DMP and transitioning to the DCT.
You're currently pursuing a master's in nursing. What is the focus of this study, and what do you hope to do after completing this degree?
I am currently in a family nurse practitioner program. I plan to work in a primary care or urgent care setting for a year or two to build a foundation of knowledge. Then I would like to find a specialty that interests me--maybe it will be neurology/neurosurgery again!
What do you enjoy most about your work?
Building rapport with patients and their loved ones brings a lot of meaning to what we do as nurses. Supporting families through the toughest experiences of their lives is heavy yet rewarding. You can feel that you make a difference in some situations, which is the reason I show up day to day.
What's the hardest part of your job?
The hardest part of my job is similar to the part of my job I enjoy most, supporting and being present for the hardest experience a family goes through can weigh heavy. In the ICU setting, many patients and their loved ones don't expect to be there. As the bedside nurse, you're present to experience the emotions and shock that come with severe illness.
What's one thing you wished more patients (and their loved ones) knew about their visits?
The Sarah P Duke Gardens are so close and breathtaking! Take a break from the hospital environment and check them out.
You submitted a photo of your dog Daisy for our ongoing Duke Neurology pet photo album. How and where did you get Daisy? What's been the most surprising part about owning a Golden Retriever?
We got Daisy from a mutual acquaintance that decided to breed their Golden. She was born in Topsail, NC. I was very surprised to learn that Golden Retrievers are such high energy dogs. I always thought of them as relaxed and low energy... I was mistaken, but in the best way possible.
What other passions or hobbies do you have outside of Duke?
My husband and I love to travel and be outdoors. Naturally Daisy likes to join us! We hike, bike, visit the beach and mountains, and explore new restaurants.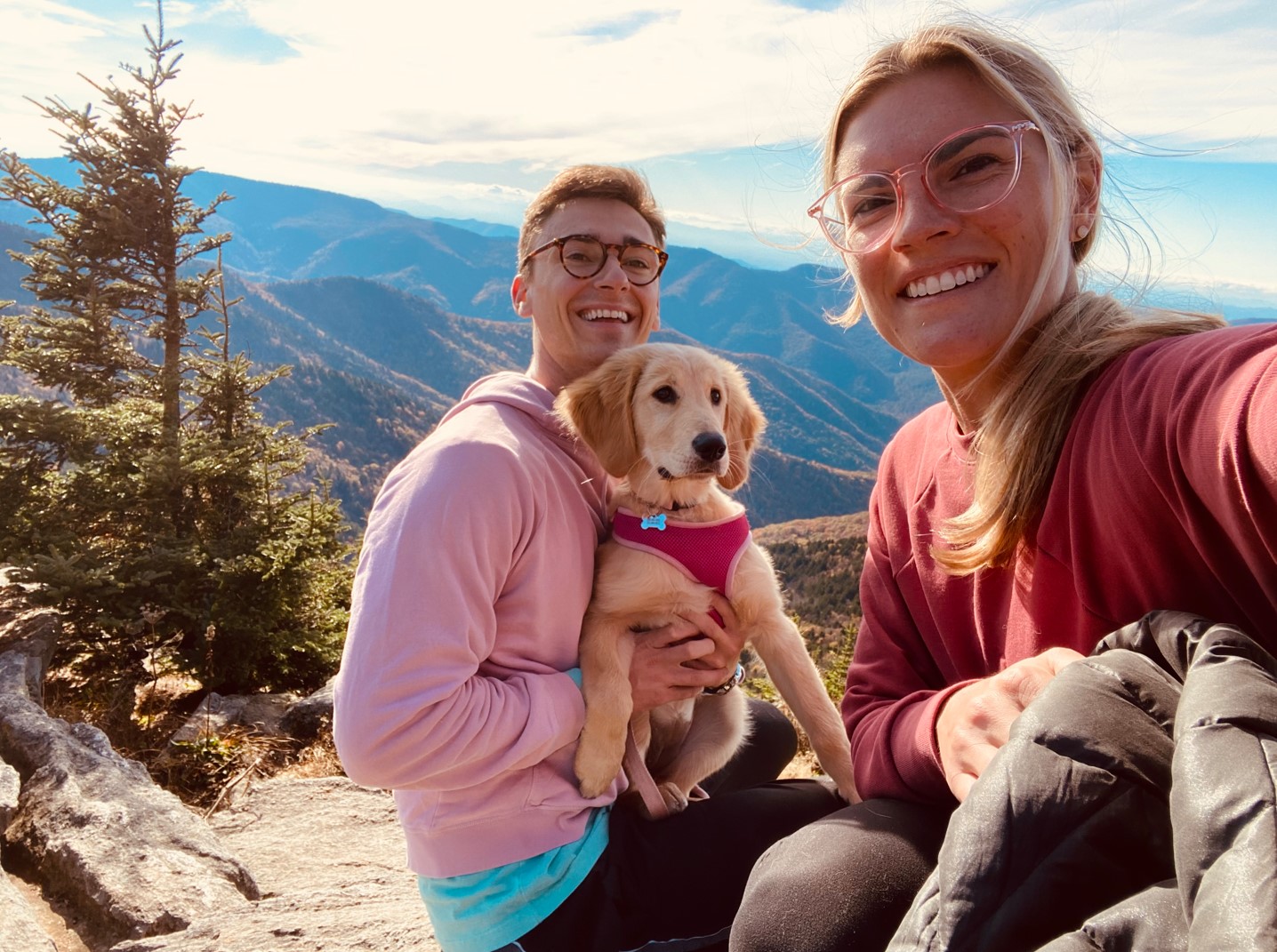 Heintschel and her husband enjoy an outdoor trip with Daisy.