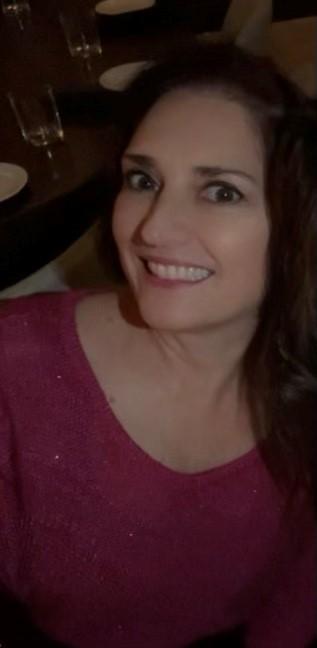 Michelle Moshkowitz's history with Duke Neurology stretches back to 2008, when she started working as a registered medical assistant at our Morreene Road Clinic. After a stint in one of Duke's Integrative Medicine Clinics, she has returned to Morreene Road, where she's helping to schedule, organize, and maintain our clinical research for Huntington's disease. In this week's Spotlight interview, Moshkowitz talks to us about the many behind-the-scenes activities required to keep clinical research going, the different studies she's involved with, and why she was known as the "clinic DJ and stand-up comedian" in her previous position.
What are your current responsibilities in the Neurology Department? What does a typical workday look like for you?
My weekly schedule is very busy; there is always something to be done whether I see patients or not. A typical week involves seeing patients on Monday, Tuesday, and Friday mornings. I'm taking part in several Huntington's disease research studies and working closely with Dr. Burton Scott who is the main investigator. On Tuesday, Wednesday and Thursday I work on-behind-the-scenes activities which include data entry, scheduling follow-up appointments for patients, being in contact with the different study managers and assisting with any issues that have occurred. 
Because each study involves different assessments that need to be done during the visit, I need to make sure I have all the required tools such as the correct lab kits as well as packaging materials. It is essential to check each study daily, making sure the patients have been seen on the designated dates according to the study protocol. Every Friday afternoon I attend the weekly Huntington's disease clinic led by Dr. Burton Scott and Dr. Katie Moore. One of the studies that I work on is an observational one which doesn't involve medications. Every Thursday I check the schedule for the upcoming Friday Huntington's clinic to see if there are any patients that are enrolled in the Enroll-HD study which are due to be seen as their yearly follow up visit. I also provide information and support to any patients and their families for any current studies that are currently enrolling or any future upcoming studies. 
What were you doing before you came to the Neurology Department, and how does that work compare to your current position?
I have a long history with the Morreene Road Neurology clinic. I started working at Duke University in 2008 as a registered medical assistant in the Neurology clinic at Morreene Road which was my first job at Duke. I used to collaborate with many providers that are still currently working at Morreene Road. I have transferred to an Integrative Medicine primary care clinic at Duke after seven years.
I've learned a lot while working there. I had the opportunity of seeing different disorders as well as seeing a variety of ages. Another interesting aspect that was special to that clinic was the focus on the mind and body as one unit. As part of the treatment options the providers were using a non-alternative way such as medical massage, acupuncture, a variety of supplements and herbals as well as different meditation techniques. Much research has shown that those methods may aid with chronic illness symptoms.
My earlier job involved interactions with patients, their loved ones, and providers. My daily schedule was involved with checking in patients as they were coming to be seen in the clinic, taking vitals, drawing blood, perform different tasks such as medication refills, ECG, hearing test, eye exam, injections such as flu shot, pneumonia, hepatitis, shingles, processing the different labs, and providing support to the patients and providers.
After being in the Integrative Medicine clinic for seven years I had the opportunity to go back to Morreene Road Neurology clinic which was wonderful and felt like going back home. 
What clinical research projects are you currently involved with, and how will that research help us better understand or treat neurological conditions?
My main research studies involve Huntington's disease. Huntington's disease is a rare disease which involves the degeneration of nerve cells in the brain. The symptoms include cognitive, physical, and mental disorders which appear during a person's 30s and 40s. There may be cases of appearance of the disease before the age of 20 which would be referred to as juvenile Huntington's disease. There is no cure for the disease but there are currently medications that aid with managing the symptoms. 
Currently I'm working on four different studies. Enroll-HD study is an observational one which I've mentioned before. This study just had its ten-year anniversary and currently there are about 150 enrolled patients. The other two studies that I'm working on are the Kinect-HD and Proof-HD. Both have observational, physical, and cognitive aspects which require performing different evaluations with the patients in person and over the phone. Those patients are at higher risk of attempting suicide and for that reason is crucial to be monitored regularly with a psychiatrist.
What do you enjoy most about your work?
My favorite part of my job is the interactions with the patients and their loved ones. With my new role as being a research coordinator I'm able to interact with the patients, their loved ones and keep my clinical skills. During COVID-19 I took the opportunity of going back to school and getting my bachelor's degree in health psychology. I was extremely fortunate to get my current role and I'm very thankful for that. Having a role in the research world is very exciting and interesting to me as I'm taking part in creating something that may assist patients with Huntington's disease in the future.
What's the hardest part of your job?
The hardest part of my job is multitasking which requires having approximately ten different pieces of software that are not synchronizing with each other and making sure they are all updated with the current data. I never had an "office" job before; I'm used to being on my feet all day, so this part of the job is different and takes adjustment. I'm very thankful to staff members that took me under their wings and showed me the ropes to this new role.
What other passions or hobbies do you have outside of the Department?
I love spending outdoors when the weather allows with my two doggies Adrian and Lulu. Adrian is a 13-year-old Jack Russel mix which is totally a mommy boy. Lulu is a total diva that would only eat and sleep and occasionally, would hang out with the rest of us humans. I love spending time with family and friends, I love dancing, being silly and laughing. Sometimes I think of something funny and would not be able to stop laughing. My husband Ronnie totally knows me as he would say in a situation like this, "just tell me when you're done laughing". I love to laugh, and I love to make others laugh. Every patient I see I try to make them laugh as well. In my previous job I was known as the clinic DJ and stand-up comedian. Maybe that will be my future role, who knows.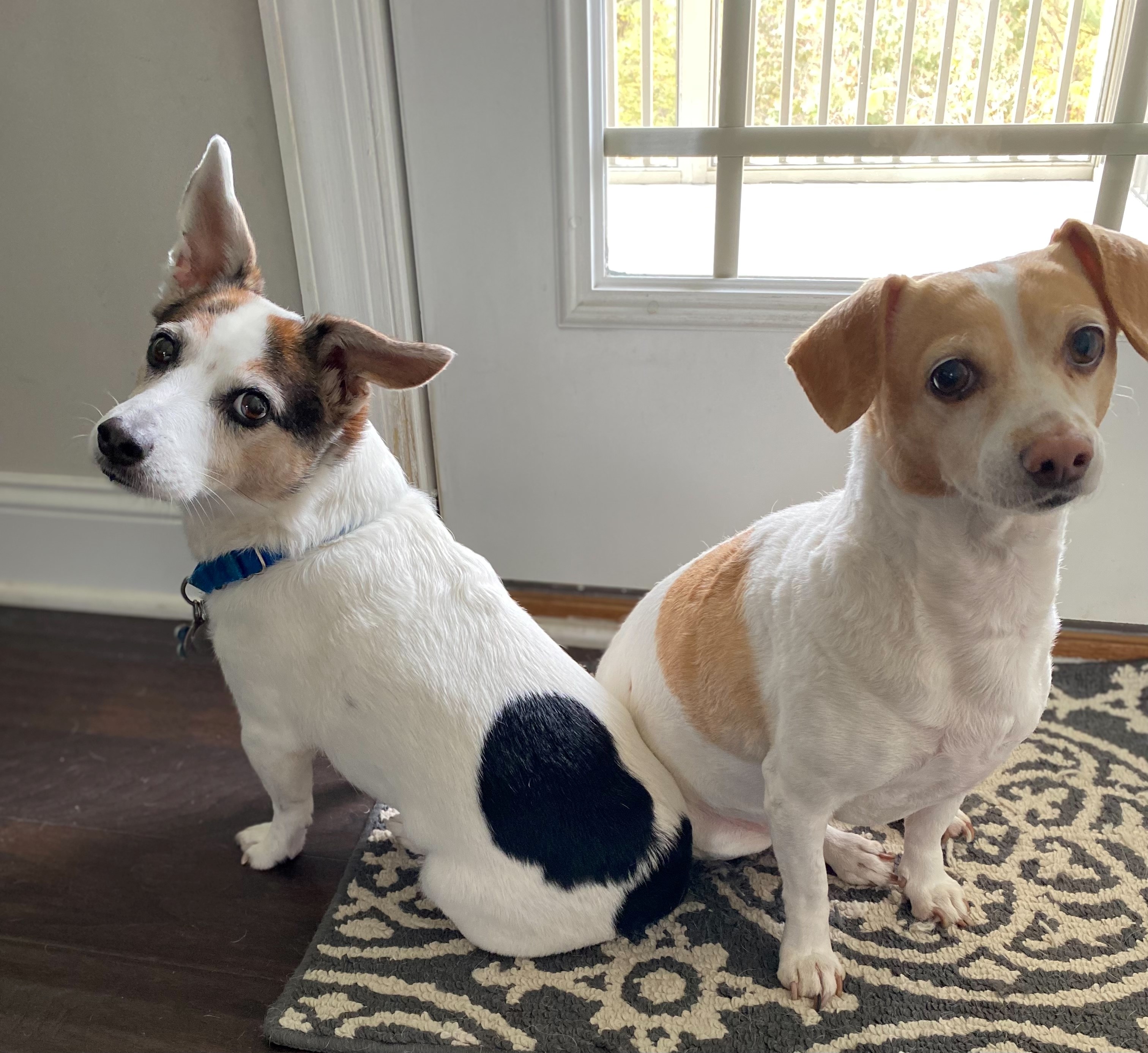 Moshkowitz's dogs Adrian and Lulu keep her company when she's not at Duke.