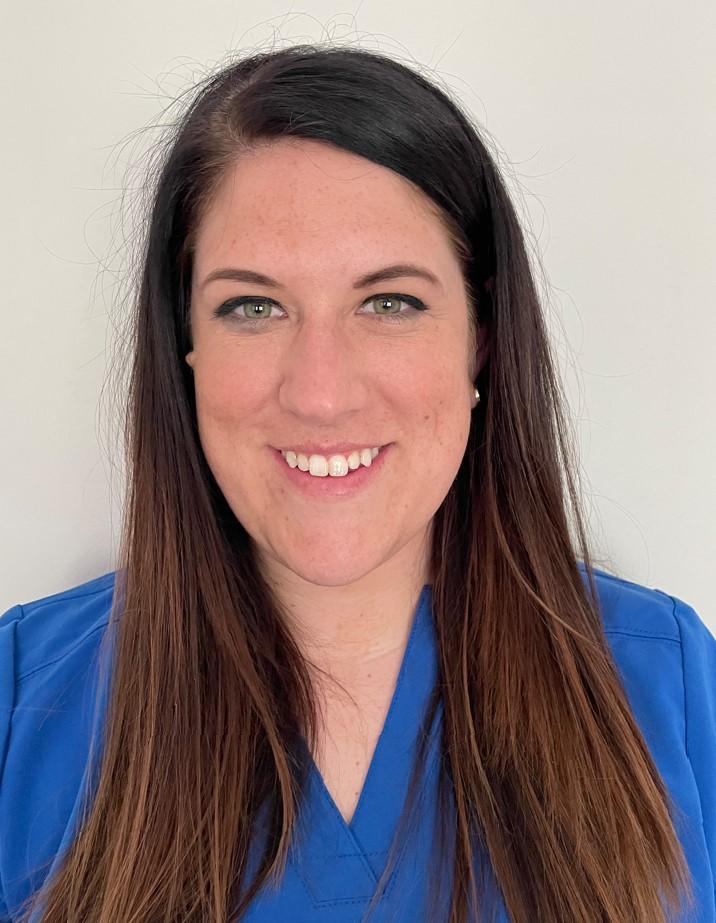 This week's Spotlight interview shines on Rebecca Murphy, a licensed practical nurse within the Neuro Spine and Stepdown Unit of Duke Central Tower. Murphy talks about her work providing care to help patients' injuries as well as their overall well-being, the joys and challenges of helping patients while having to be four places and once, and enjoying time with her "fur babies" Zion and Winnie as well as house projects and visiting the beach when she's not at Duke.
What are your current responsibilities in the Neuro Spine and Stepdown Unit? What does a typical day look like for you?
My current responsibilities are those of a bedside nurse: giving scheduled medications, providing wound care and support for the patient as a whole, as well as working with the care teams to complete scheduled tasks.  
How did you decide to become a licensed practical nurse (LPN)? What brought you to the Duke Central Tower?
I became an LPN in 2017 and have slowly but surely been working towards my RN. I came to the Duke Central Tower when I saw an LPN position posted for the neuro step down unit. I previously worked most of my nursing career on a medical/surgery floor in Idaho and then at the Blood Cancer Center here at Duke. I missed inpatient care and decided to come back to the bedside from the clinic. 
What do you enjoy most about your work?
I enjoy the relationships I build with my team as well as my patients. I enjoy being directly involved in helping them accomplish what they need to get home or wherever they go after their hospital stay. I also enjoy all the new things I am learning daily about neuro care, and specific treatments we offer.  
What's the hardest part of your job?
The hardest part of my job is needing to be in four places at one time, However, that is where prioritizing comes into play. It is also a challenge when patients have had unfortunate neuro setbacks and everything that comes with that.
What's one thing you wished more patients (and their loved ones) knew about their visits?
Nurses are the messengers to the doctors' orders. We are simply carrying out orders the providers put in for the patient care, as well as we always have multiple patients at one time so sometimes the understanding that we don't have all the time we would love to have, isn't there. 
You shared photos of Zion and Winnie for our Duke Neurology pet contest. When and where did you get them?
I got Zion in Idaho from a breeder in 2019 he is AKC bred specifically for duck hunting bird retrieval.  We received Winnie from a high school friend that had a litter of miniature dachshunds. Zion is 4 and Winnie is 2.
What three words would you use to describe each of them?
Zion: Smart, Sweet, and Loyal
Winnie- Velvet soft, affectionate, and tough. 
What other passions or hobbies do you have outside of Duke?
I love to explore new breweries and vineyards, as well as take trips to the beach. I also enjoy spending time with my fur babies and projects around the house such as painting and refreshing furniture.