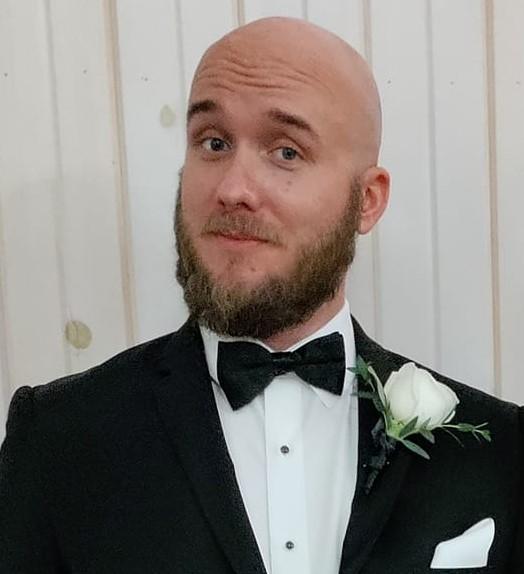 Whether he's diagnosing the problem behind a malfunctioning desktop computer or maintaining the integrity of a decade's worth of lab data, IT Analyst Ryan Aamot is a lifesaver for the Duke Neurology Department. For this week's Spotlight interview, Aamot talks about his work helping to prevent and solve problems for Duke Neurology and other Departments within the School of Medicine. He also shares the joys and challenges of working with technology that is either cutting-edge, ancient, or a mixture of all three, and how he got into the field of information technology. Finally he talks about his experiences backpacking through South America and working as a certified nursing assistant just before the COVID-19 pandemic.
What are your current responsibilities in the Duke Neurology Department (and the rest of Duke)? What does a typical workday look like for you?
Although I am the designated support analyst for the Neurology department it is the responsibility and expectation of each analyst on my team to be capable of supporting each department under our umbrella within the Duke School of Medicine. A typical workday can range from answering questions in tickets and emails, remotely assisting users on and off Duke's campus with various computer and device issues, preparing new computers and peripheral hardware for incoming employees, and even working with labs on petabytes worth of research data lifecycle management, storage, and migration.
What were you doing before you came to this position? How does that work compare to what you're doing now?
I worked as an IT Analyst with OASIS (then ACAD support) from 2017-2019. In 2019 my wife and I quit our jobs here in NC to backpack through South America, starting in Peru, making our way to Ushuaia (the southernmost city in Argentina) bouncing between Chile and Argentina then up and over to Brazil and the Amazon jungle.
After a little over 6 months of backpacking through four different countries, COVID-19 started closing borders so we were forced to return to the states. We moved to Portland, OR, where I got certified as a Certified Nurse's Assistant (CNA) and worked in a Skilled Nursing Facility for a year during the heart of the pandemic. A CNA's responsibilities are extremely different from the responsibilities I hold as an OASIS IT Analyst so they're difficult to compare. That said, both positions focus on taking care of the people I am responsible for and being certain that all things, at all times, function as smoothly as possible.
We started in Peru, hiked 5 days through the Andes to Machu Picchu, then made our way down to Ushuaia (the southernmost city in Argentina) bouncing between Chile and Argentina then up and over to Brazil. We were literally getting off a 5-day long ferry ride up the Amazon River in the middle of the Amazon Jungle (near a village called Tabatinga) on our way to Ecuador (through Colombia) when borders started closing for COVID. It was amazing!
How did you decide to pursue information technology as a field?
I've always had an affinity for computers and consider myself lucky to have been introduced to technology at the age and time that I did. The first computer my family owned was easy to "break" and someone had to get it all working again, that someone almost always being me. The formal education and degree came much later but I worked as a "freelance" tech support guy well before it became my career.
What do you enjoy most about your work?
Technology is ever-changing but the perk of working with an academic institution and its researchers is that you're often working with extremely new, extremely old, or niche pieces of hardware and software that you may, or may not, have ever seen or heard of. There is always something to learn.
What's the hardest part of your job?
I'd have to say the hardest part of my job is also why I like it so much. You have to stay up to date on new tech to be most effective at what you do, and what's being used today may not be around forever so having the ability to "see ahead" and plan your approach is key. The IT landscape is a constantly shifting one so you're always ingesting new and purging old information.
What future plans do you have for your career? If you could have any job in the world, what would it be?
My hope is to eventually work in a position that allows me to travel while I work. Networking, security, and cloud computing all offer some kind of remote work and look to be where IT is headed in the coming years.
What other passions or hobbies do you have outside of Duke?
Outside of Duke I am a pyrographer, novice woodworker, artist, dancer, traveler, gamer, and outdoorsman. I enjoy camping, kayaking, hiking, seeing and visiting new places, drawing, swing dancing, and making things with my hands.