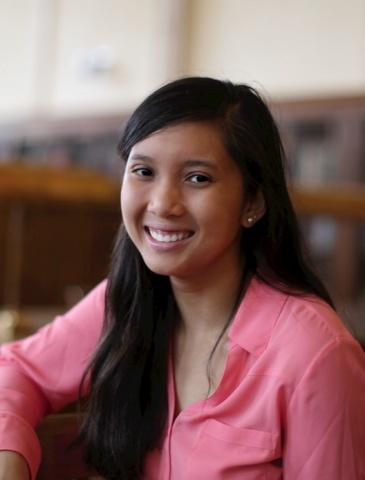 As our Movement Disorders clinic's newest clinical  research coordinator, Tiffany Tran has what she sees as "the best of both worlds": opportunities to interact with patients living with movement disorders as well as chances to learn more about clinical research through ongoing studies that are occurring at Duke. In this week's Spotlight interview, Tran talks to us about her work in both of these areas, how this work overlaps with her graduate studies in biomedical and health informatics, and how her previous volunteer experience working with patients gives her a new perspective on clinical research.
What are your current responsibilities within the Neurology Department? What does a typical day look like for you? 
I'm a clinical research coordinator in the movement disorders division. Since I'm relatively new, I'm working on picking up my daily responsibilities, but I've been interacting with patients and attending meetings to discuss and update what clinical research is occurring. I've also been slowly meeting everyone in the Department, and everyone has been so kind and inspiring!
You're also working on your Master's of Professional Science (MPS) in biomedical and health informatics at UNC-Chapel Hill. What interests you the most about this field? 
I really enjoy working with research and data; this program allows me to get the best of both worlds. I aim to understand how informatics can help support biomedical and clinical research, along with working on the healthcare progression to improve patients' quality of life. Learning about the different factors that go into research and patient care excites me, and my MPS will help me deepen that understanding. 
How do your studies in this area and your current work in the Neurology Department complement each other?
My ultimate goal in my professional life is to be a part of something great to help support others. Being able to learn how to obtain and work with different information through my studies and using them in my work as a CRC allows me to work towards that goal. It's like learning more in-depth about what happens behind the scenes in healthcare and then getting to apply it in real life.
You also have extensive experience volunteering at the UNC Cancer Hospital. What was that time like? How did it inform your understanding of healthcare or what it's like to be a patient?
It was definitely an eye-opener, for it was my first true experience being in the medical field. I met and interacted with various patients and members of the medical staff. Being able to learn about the stories that each person has and why they do what they do is always so interesting. It really helped increase my understanding of how much impact everyone has. I decided to get more involved in healthcare, getting my CNA license to get more patient interaction and create deeper relationships. One road led to another, and now I'm here at Duke working in healthcare!
If you could have any job in the world, what would it be?
There's probably a job where I can just get paid to eat and travel, right? I'd take that job without all of the complications. 
What other passions or hobbies do you have outside of the Department?
Outside of work and school, I play tennis and jog. I'm actually training to do the Tar Heel 10-miler! I also like to eat, cook/bake, and listen to music while sitting on a picnic blanket and watching the sunset with good people.

In the photo above, Tran attends her cousin's recent high school graduation.