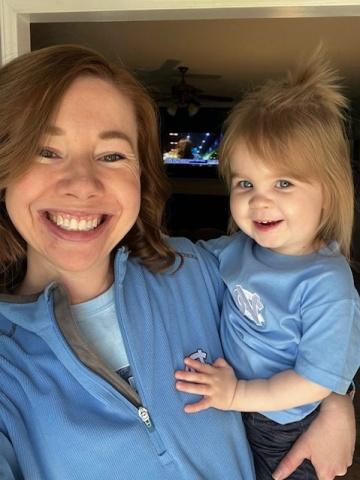 Clinical research is an integral part of developing, testing, and refining new therapies. As one of our Clinical Research Coordinators Vera George is responsible for making sure dozens of these studies at Duke run smoothly and efficiently. For this week's "Spotlight" interview, George talks to us about the joys of helping current and future patients with myasthenia gravis, movement disorders, and other conditions. She also discusses how her previous position at Durham Regional's Special Care Nursery compares to her current work and enjoying time with her daughter and Etsy shop when she's not at work.
What are your current responsibilities in the Neurology Department?
I serve as a clinical research nurse coordinator for a variety of research studies in the neuromuscular, movement disorders, and pain divisions. I love this job because there really is not a "typical" day - every day is different and some days, almost every hour can be different. My responsibilities are site level study start-up; subject recruitment, enrollment and retention; scheduling and conducting study visits; documenting research data from visits, maintaining study binders, and the list goes on.
My day typically begins around 8:00 a.m., and I begin each day reviewing my schedule for the day and the week. Organization and planning are key to being a successful coordinator, and I like to be sure I'm prepared for upcoming visits, have things scheduled as expected and that patients are aware of what to expect/things that need to be done prior to arriving for a scheduled visit. I spend several hours per week screening various clinics for potential study participants, and then either plan to meet those patients when they arrive in clinic later in the week or contact them about research opportunities.
What does a typical day look like for you?
Some days are spent with the neuromuscular division in clinic 1L recruiting myasthenia gravis patients for some of our biorepository studies and collecting blood samples. Others are spent with movement disorders division working on an exciting adaptive DBS study for people with Parkinson's disease. In between these I also spend a significant amount of time working on a study aimed at treating trigeminal neuralgia and small fiber neuropathy. I love the variety of interventional vs. registry/observational studies because it keeps things interesting while keeping the workload balanced.
What were you doing before you came to Duke, and how does that work compare to your current position?
Prior to my current position, I worked in Durham Regional's Special Care Nursery (SCN) for almost 5 years. It's night and day different to go from working inpatient nursing with the neonatal population to neurological research with adults – and even though they are very different, I love both. When I worked in the SCN, I served as a charge nurse and stork nurse (nurse responding to all deliveries, RRTs and codes). There I learned the skills of prioritization, patient care management, clinical decision-making, organization and so many others, which have directly impacted my ability to be successful in my current position.
What do you enjoy most about your work?
I love connecting with patients. I really enjoy that research brings so much hope to people and there are so many patients who tell me of the fulfillment they get from knowing their contribution to research may help others down the road even if it doesn't directly benefit themselves. It's powerful and motivating when patients say they are noticing an improvement from a study I'm involved with.
What's the hardest part of your job?
The absolute hardest and least favorite part of my job is telling someone they don't qualify for a study. People have high hopes for research, and sometimes, they have tried everything else and feel they have no other option left. It's a tough conversation when they can't participate but had a strong desire to do so.
What other passions or hobbies do you have outside of the Department?
I am passionate about family and spending time with my 2.5 year old daughter, Stella. There is nothing better than taking her on adventures around town and around the state. I have a lot of hobbies, but to name a few: I have an Etsy shop, where I list wreaths I've created. So far I've sold 17! I also love to shop thrift and I'll cycle my closet by selling items on Poshmark. I love spending time outside whether it's doing yard work, gardening or just hanging out at the park with Stella. I also love to sing and I'm pretty sure everyone I've ever worked with can confirm I'm almost always singing or humming a tune.