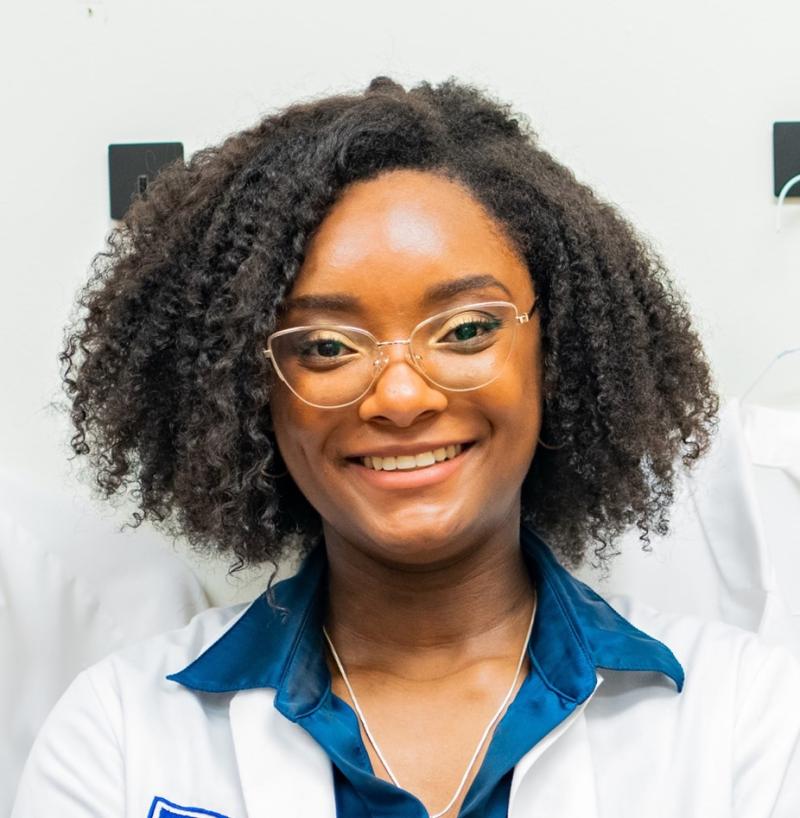 ZiYan Britt's work as a senior clinical research specialist allows her to connect with two passions: learning more about neuroscience and the brain while also having the opportunity to get to know and bond with the patients involved in that research. For this week's Spotlight interview, Britt talks to us about her work collecting and documenting electrophysiological data from epilepsy patients. She also shares how her previous work at the  National Institute of Environmental Health Sciences (NIEHS) informs her current work, and her passions for kinesiology, soccer, and sunsets when she's not at Duke.
What are your current responsibilities in the Duke Neurology Department? What does your typical day look like?
As Senior Clinical Research Specialist, I am responsible for a variety of tasks. I collect electrophysiological data from epilepsy patients who are admitted for SEEG monitoring and extract that data using special software. I also document any study activities including, but not limited to, data collection, informed consent, IRB correspondence and protocol amendment, organizing and entering our various types of data, and my favorite, labeling electrodes to render a 3D brain model of patients' brains with the stereoelectrodes in place. 
I spend my days pivoting from task to task and supporting the lab in any way that I can. The lab supports me too, offering help when I get errors in MATlab scripts and being generally helpful. The people I work with are fantastic and I love being a part of their team. 
Before coming to Duke you worked as a Post-Baccalaureate Research Fellow for the National Institute of Environmental Health Sciences (NIEHS). What did that fellowship involve, and how does it compare to your current position?
I was a part of a developmental neurobiology lab where we focused on how environmental factors could perturb the development of the central noradrenergic system of the brain. I learned many things in this lab, including but not limited to, immunohistochemistry, RNA purification and replication/cloning, mouse brain anatomy, RNAscope, and neurodevelopment. I got to make histological slides using samples that I collected and preserved myself during dissections. 
I also was just about to start an independent project examining mRNA expression of the gene which codes for acetylcholinesterase in the brain during different stages of murine development, focusing on the pontine region of the brain. An exciting aspect of the project was that we were going to order custom RNAscope probes for each of the protein's isoform's genetic codes. I learned a lot about project planning which I find to be a helpful skill.
What future plans do you have for your career? If you could have any job in the world, what would it be?
In the near future, I want to begin medical school and begin the process of becoming a neurologist. If I could have any job in the world, I'd spend the rest of my days serving neurological patients in a subspecialty of neurology. Because of the variety within neurology, I haven't decided which subspecialty I will pursue, yet. I cannot wait to begin learning about each area of neurology and all of the wonderful applications of neuroscience. 
What do you enjoy most about your work?
One word: patients. I love meeting every single patient. We always have so much fun during data collection and I get to know them by the time they are discharged. It's surprising to see who I can connect with, no matter the age, gender or culture, we find something to bond over. I love that my job allows me to break social barriers and connect with anyone on a personal level. Every patient leaves a new friend.
 What's the hardest part of your job?
One of the challenges of this position is the data processing pipeline. We haven't developed a streamlined  system yet so there's quite a few MATlab scripts involved. Some days the scripts return a ton of errors and I could spend all day resolving them. Thankfully, my colleagues are more experienced with code and are always there to help when I'm having trouble. It's so satisfying when we troubleshoot the problem and fix it together! I always walk away learning something new about MATlab and code. My colleagues are very knowledgeable when it comes to programming and I've picked up a few tips from them along the way. Shout out to Aaron, Zac and Kumar! 
What other passions or hobbies do you have outside of the Department?
I love exercise and I even majored in kinesiology and exercise science in undergrad. I enjoy keeping active with hiking and weightlifting. My favorite sport to play is soccer and I played from the time I was 5 years old until I was 17 years old. I also refereed soccer as a teenager to make money. One particular thing I love to do is watch the sunrise or sunset, which is even better to do while hiking with my partner and our dog. I also happen to run a childcare business on the side, and I bring my services to the Duke Chapel nursery on Sundays, which I really enjoy.