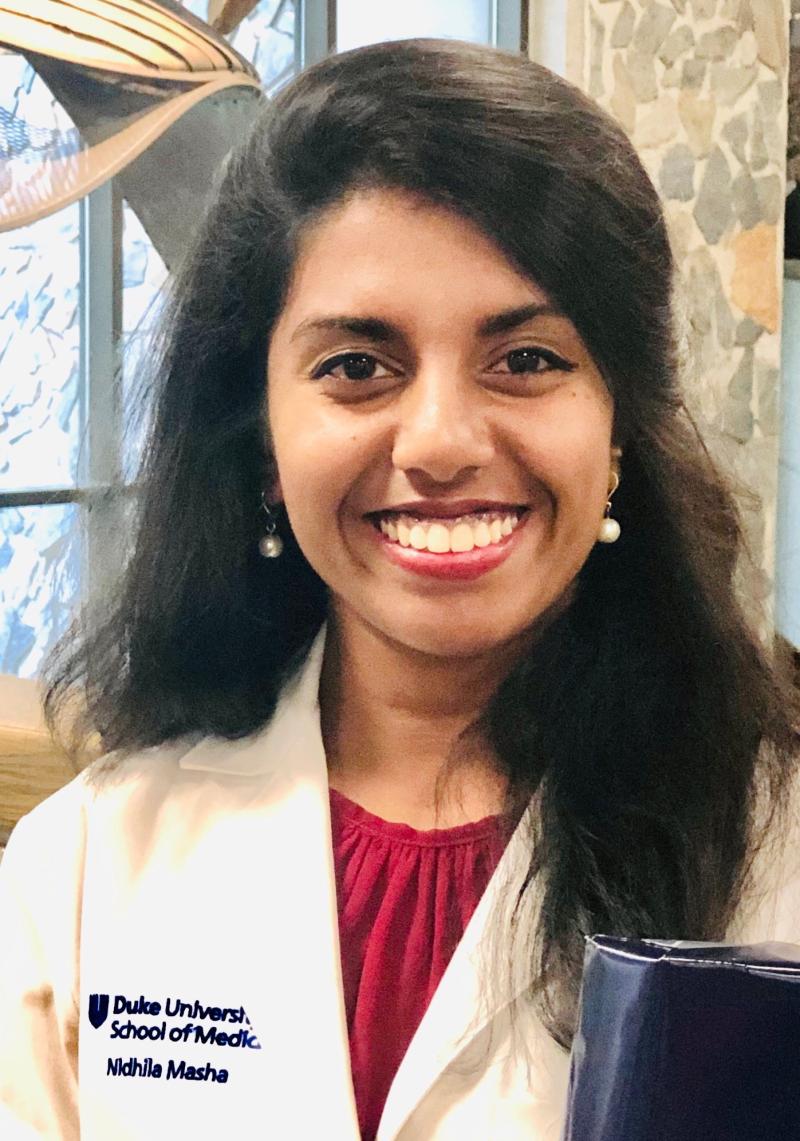 Since childhood, Nidhila Masha has been fascinated by the human brain as a "final frontier" still open for additional discoveries and study despite the advances of modern science. Now, as a third-year medical student at the Duke University School of Medicine, she's exploring that frontier--and upending conventional wisdom--with a research project examining therapies for multiple sclerosis (MS) during the COVID-19 pandemic. For this week's Spotlight interview, Masha talks to us about how her research will help patients with MS make more informed decisions about their therapy choices. She also shares the joys and surprises of medical school so far as well as her puzzles and escape rooms when she's not at Duke.
What are your current responsibilities as a third-year medical student? What does a typical day look like for you?
Mostly research! I've been working on a couple projects within Duke's neuroimmunology department, one of which is mostly finished and the others being in various stages of development. However, twice a week I get to see patients and work with attendings at one of Duke's general neurology and movement disorders clinic.  
How and when did you first get interested in neurology? What interests you most about the field?
It's hard to tell! It was really more of a chain of events. Through high school I volunteered at a home for children with developmental disabilities. It was my favorite place to volunteer, and I went regularly for almost four years. My time there led me to pursue a research project connected to Duke's autism center when I got to undergrad, and that project got me curious about the structural workings of the brain. I was reading a lot of (probably pop) neuroscience books at the time: Incognito by David Eagleman and everything I could find by Oliver Sacks. 
Somewhere along the line, likely due to a combination of these influences, I just fell in love with the subject!
Maybe it's the fact that Star Trek made up an inordinate percent of my childhood screen time, but I've always been fascinated by the concept of a final frontier. Nowadays the term seems to be used to describe the human brain just as often as it's used to describe the limits of outer space, and sometimes Alaska. There are so many unknowns in every branch of medicine, but I love how much room for curiosity there seems to be in neurology, particularly.
You're presenting a poster on the risk of severe COVID in patients on B-cell therapies in multiple sclerosis (MS) for the Americas Committee for Treatment and Research (ACTRIMS) conference later this month. What were the main findings in this poster, and what additional challenges have patients with MS faced during the COVID-19 pandemic?
Rituximab and ocrelizumab are two medications commonly used to treat multiple sclerosis, but which also suppress the immune system. Given the global pandemic, there's been concern that these medications could increase risk of severe COVID-19 infection. Some have recommended avoiding these therapies for the duration of the pandemic. 
As both medications (particularly ocrelizumab) are highly effective and therefore important tools in the treatment of multiple sclerosis, decreased use of these therapies would greatly impact patient care. We analyzed rates of COVID-19 infection and COVID-19 hospitalization in Duke patients with multiple sclerosis, but found no difference in incidence or severity of COVID-19 infection between patients on and not on these therapies.
These findings call into question whether these therapies truly do increase COVID-19 risk and whether they should be avoided during the global pandemic. No one wants to contract COVID-19, and no one with multiple sclerosis wants their condition to worsen—for many patients, these two desires can seem to be in conflict. Most multiple sclerosis treatments do suppress the immune system, some must be administered at a healthcare center, and patients with multiple sclerosis often have regular clinic visits for disease monitoring. 
The pandemic has led many patients with MS to change in-person visits to virtual, has caused significant anxiety surrounding in-person visits and hospitalizations, has sometimes led to vaccine hesitancy, and has required patients to develop a whole new level of knowledge surrounding their treatments in order to try to determine how to balance COVID-19 and multiple sclerosis risk.
What plans do you have for after you finish your medical degree? If you could have any job in the world, what would it be?
It's hard to believe that the end of med school is less than a year away! I'll be applying for a residency in neurology in the deceptively near future. Being a neurologist is my dream job, but there are so many different branches and I really don't know which interests me most yet. I love general neurology and neuroimmunology, but I also acknowledge that those are the two fields I have the most exposure to, so I'm keeping an open mind.    
What has been the biggest surprise about medical school so far?
I was surprised by our opportunities to make an impact while still being students. I've been lucky enough to work with Root Causes, a student organization committed to addressing social determinants of health in the Durham community. And I am constantly in awe of the sheer scope of what some of my classmates have achieved through this organization, and excited for the ways in which I have been and am able to contribute. 
Working with donors to organize and expand food deliveries for Root Causes, or even helping out at COVID vaccination clinics in the community—there's been so many times in med school where I felt amazed and grateful that work I was doing was work I was allowed to be doing. Even though I was still just in training and still figuring out my own place in this world. 
Med school lives in this sweet spot where you still have so much mentorship and support and guidance, but you also newly have a lot of autonomy and trust. People are willing to trust you with funding and information and all the other resources you need to do something of real scope.
What other passions or hobbies do you have outside of Duke?
I adore escape rooms, and would highly recommend Bull City Escape's A Study in Murder room to anyone looking for one in Durham! But to me the biggest thrill of puzzles has always been getting to be behind the scenes.
I started putting together escape rooms in high school, taking over the garage for a day to set up the various props and clues for my friends to work their way through. In undergrad I would do the same once a year with the upstairs common room. The pandemic forced me to switch to a virtual format in med school, but I've still enjoyed putting together escape room websites and zoom sessions for my classmates and friends back home!