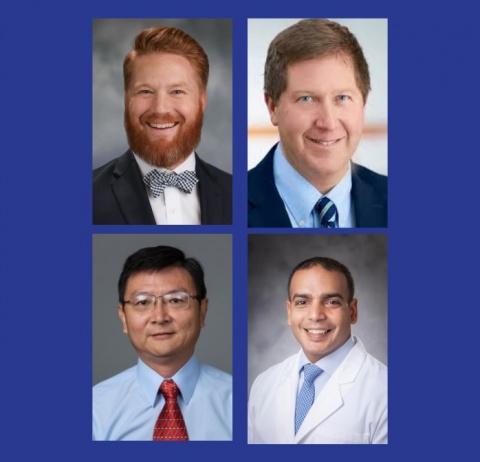 An interdisciplinary team from the Duke Departments of Neurology, Orthopedic Surgery, and Neurosurgery has received the Duke Institute for Brain Science's (DIBS) $75,000 2020 Research Incubator Award to improve recovery after spinal cord injuries. These awards fund high-risk/high-return collaborative neuroscience research that crosses disciplinary boundaries, and is likely to draw external funding.
The Department of Orthopaedic Surgery's Timothy Faw, PhD, DPT (upper left) will lead the project, along with Neurology's Laskowitz, MD, MHS (upper right),  and Haichen Wang, MD (lower left), and the Department of Neurosurgery's Muhammad Abd-El-Barr, MD, PhD (lower right).
"Spinal cord injury can be a devastating and life changing event, and at present there are no effective neuroprotective therapies to improve outcomes. This funding will establish a multidisciplinary group of clinicians and researchers to help address this compelling unmet clinical need," said Laskowitz.  "The CN-105 peptide we are using would represent a first-in-class therapeutic, and  and Dr. Faw's team has already demonstrated improvement in clinically relevant animal models of spinal cord injury."
The collaborative project, "A Novel Apolipoprotein E (apoE)-mimetic Pentapeptide to Improve Recovery in Acute Spinal Cord Injury," will attempt to reduce the body's harmful early inflammatory response after a spinal cord injury. The team has developed small peptides that mimic the function of apolipoprotein E (apoE), which plays a critical role in mediating this neuroinflammation. This peptide, CN-105, has shown potential in clinical trials and has been shown to effectively cross the blood-brain barrier.
DIBS awarded five Incubator awards and one related Germinator award this year. Other funded projects will examine the relationship between tobacco use and chronic pain, how changes in the gut are communicated to the brain, the use of novel technologies to understand the neural mechanisms of Parkinson's disease, and the effects of toxins on the developing brain. Each project represents multiple departments and schools, including the Duke School of Medicine, the Pratt School of Engineering, Trinity College of Arts & Sciences, and the Nicholas School of the Environment.
"We are pleased to be able to make these awards and highlight the value of interdisciplinary research," said DIBS Director Geraldine Dawson, PhD, in announcing the award recipients. Even during these financially challenging times, Dawson noted, "we remain strongly committed to supporting collaboration and innovation in the neurosciences at Duke. We were especially pleased to see the breadth of departments and schools that received funding." Read more about the DIBS Incubator Awards here.