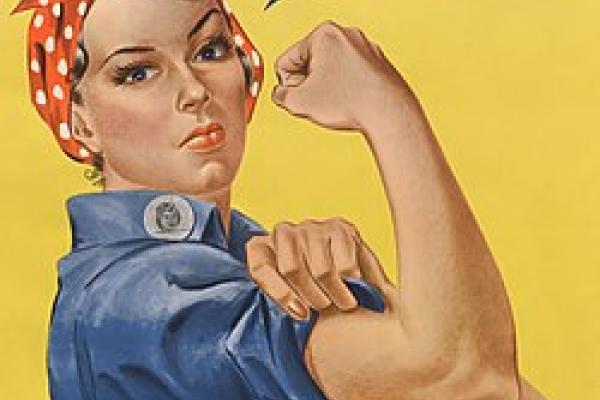 I hope you're enjoying this beautiful Spring and Eid Mubarak!
At the end of all of my monthly emails, I provide a link to anonymous comment box. It doesn't get used often, but I'm pleased that we did receive a comment this past month. I really appreciate anyone who takes the time to write to the DEI Committee! I'd like to share the comment because it raises a very important point.
Disappointed that March DEI email did not mention that it was Women's history month and honor all of the women in the department. Sometimes I feel that ALL aspects of diversity are not recognized in the visible DEI work of the department.
I will own this, as it was my decision not to write about Women's History Month last month as I had done in years past. But it's never a bad time to honor the women in the department, and April is Celebrate Diversity Month, so let's focus on women this month! My interpretation of the comment is that we have not done well enough in making the department's progress on gender equity and empowerment visible, so I'd like to review some highlights from the past few years.
Diversity: 
While neurology across the country still has more men than women at both faculty and residency levels, Duke Neurology has hired women at a faster pace than men, growing ever closer to a 50-50 department. This contrast is even more striking in our residency where 63% of our residents are women, well above the national average of ~45%.   
Equity: 
A few years ago, we analyzed salaries looking for a gender pay gap, which is a common problem in academic departments across the country. Thankfully, among clinical faculty, we did not find a gender disparity in pay. There was a research faculty pay gap, though, which is now being addressed since it was first identified. This is scheduled for a revisit later this year to ensure that we are closing that gap. We also analyzed grand rounds speakers and found that women were underrepresented among invited guests. Since this was identified, we have been trending upward in the percentage of women among our invited speakers. We have also seen the creation of the Janice Massey Women Leaders in Neurology lecture, our only named Grand Rounds event of the year.
Empowerment: 
There was a time not too many years ago when all division chiefs and vice chairs were men. Today, we have 45% women among the division chiefs and vice chairs. 86% of our department senior administrators are women. In the education arena, our vice chair for education, residency director, and undergraduate medical education director are all women, and 63% of our fellowship directors are women. 75% of the senior research positions are held by women. While it is also true that women are frequently over-taxed when it comes to doing the unpaid or overlooked administrative tasks of a department, each of these roles is compensated to ensure we are not perpetuating the classic diversity tax.
Inclusion: 
The Women in Neurology Group remains a vital force in the department, creating a safe and social space for members of the department to gather and share their experiences. 
Outlook: 
Our recent Culture Pulse survey was reassuring with regard to gender. Across the department, there was no domain in which women reported less satisfaction than men. Although not statistically significant, women reported higher satisfaction on the Diversity and Empowerment scores with lower reported rates on the Burnout score than men.
Despite our progress, there is work to do. During our 2020 department survey, sex (specifically, identifying as a woman) was listed as one of the top reasons people perceived being disrespected at work. I consider this a major problem. The DEI Committee is planning to update this survey later this year, so we will be able to see if the above efforts have made a meaningful impact in this regard. The DEI Committee has an agenda item each meeting reserved specifically for Women in Neurology, so this will be a topic of conversation at our next meeting as it always is.
We are at a point in Duke Neurology history where we are the ones making history. Never before has the department had as high a percentage of women or women in leadership as we have today. We clearly continue to have work to do, but I appreciate the reminder to recognize and celebrate the department's successes so far when it comes to women in Duke Neurology.  Thank you all for your continued commitment to and investment in gender equity in our department and all our ongoing DEI efforts.
We are approaching one week until our first NCCU Careers in Neurology and Neuroscience Day. We have had an outstanding response both internally (thank you to all our volunteers!) and externally, as our student registration numbers are going up every day. The Duke-NCCU Bridge Office has been invaluable in getting the word out for us, and we have opened registration up to HBCU students from across NC.  
While April is Celebrate Diversity Month, which reminds us that diversity makes us stronger, there are two specific groups that are highlighted in April. April is Autism Acceptance Month and National Arab American Heritage Month. The department is grateful for the contributions from all its neurodivergent members. And for those who wish to read more about Arab American Heritage Month, here is a link to the Arab America Foundation.
For those of you attending the AAN, there are over 70 DEI-themed sessions this year. When I started writing these newsletters, there were so few I could list them all for you. I hope you get a chance to check some of them out, and if you hear anything interesting or find any speakers we should invite for our D&I Grand Rounds series, please let me know! 
---