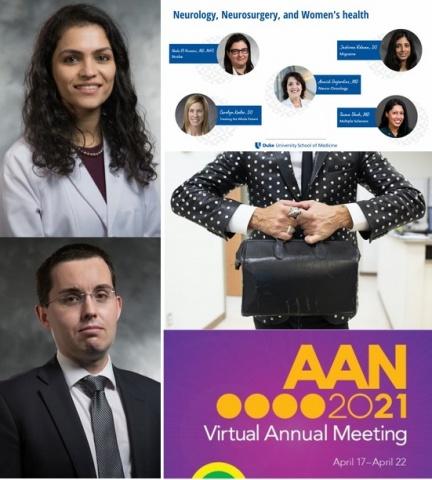 The Duke Neurology Department continued to grow and expand its missions of providing excellent clinical care, conducting research to improve our understanding of neurological conditions and how to treat them, and training the next generation of neurologists throughout 2021. Highlights from the first half of that year include a series of interviews discussing the intersections between neurology, neurosurgery, and women's health, our Department's contributions to the American Academy of Neurology's first virtual conference, and a feature story on how one of our neurologists is working with patients to work with patients to find a cure for ALS. Read these summaries and find links to the full original articles below.
(This article is the first of a two-part series. Read the second part here).
January
Moore named as one of Cell Mentor's 1,000 inspiring Black scientists
Carlene Moore, PhD, assistant professor of neurology, was one of 13 Duke scientists and eight members of the Duke University School of Medicine, appearing in a new list of 1,000 inspiring Black scientists in the United States. Cell Mentor, a blog and online resource for researchers, composed the list to showcase the contributions Black scientists make to the scientific community. Read more.
A bold approach to caring for ALS patients
Rick Bedlack, MD, PhD, is easy to spot from a distance. Instead of a white coat, the Duke neurologist wears distinct outfits when seeing patients at the Morreene Road Neurology Clinic in Durham, NC. A black leather jacket with mirrored studs and matching tie, burgundy crushed velvet suit and bow tie, a Hawaiian shirt festooned with Chinese dragons, or a pink, yellow, and green sweater vest with a Donald Duck pattern across his midsection are some of the dozens of entries in his growing wardrobe. Read our Magnify story on his innovative approach to care here.
February
Faculty Spotlight: Prachi Parikh, MD
In her "Faculty Spotlight" interview, Prachi Parikh, MD, an epileptologist who recently joined our Department, talks about her interest in neurology, the intersections between epilepsy and women's health, and enjoying cooking, traveling and time with family when she's not at Duke. Read that article here.
Passing of Dina Randazzo, Assistant Professor of Neurosurgery and Neurology
Dina Randazzo, DO, Assistant Professor of Neurosurgery and Neurology and member of the Duke Cancer Institute, passed away on February 20, 2021. She was a respected and admired neuro-oncologist in the Preston Robert Tisch Brain Tumor Center. Read more about her life and career here.
March
Duke Neurology, Neurosurgery unite to discuss women's health
Gender has profound, complex effects across all fields of health, and neurology is no exception. For Women's History Month this year, several Duke neurologists and neurosurgeons agreed to discuss gender differences and concerns relevant to women in their areas of expertise. Read our 2021 entries in this ongoing series here.
AHA offers guidance on management of eye stroke
While most people think of strokes affecting the brain, they can also affect the eye. Central retinal artery occlusion (CRAO) is a rare form of acute ischemic stroke that occurs when blood flow is blocked to the main artery of the eye. It typically causes painless, immediate vision loss in the impacted eye, with fewer than 20% of people regaining functional vision in that eye.The American Heart Association published a new scientific statement on this subject in Stroke. Read more about it here.
April
Maddening itch of liver disease comes from a surprising source
An unfortunate biological "feed-forward" loop drives cartilage cells in an arthritic joint to actually contribute to progression of the disease, say researchers at Duke University and Washington University in Saint Louis. Pain researcher and mechanobiologist Wolfgang Liedtke, MD, PhD, a professor of neurology at Duke,  partnered with former Duke colleague and cartilage expert Farshid Guilak, now at the Washington University School of Medicine, to examine the activity of pressure-sensitive ion channels in cartilage. Read Karl Bates' story on the findings here.
Duke Neurology at AAN 2021: Highlights from a virtual year
The American Academy of Neurology (AAN) has moved its annual meeting to a virtual setting this year, but its offerings of the latest education and scientific programming continue. This year, members of the Duke Neurology Department collaborated with their colleagues at Duke and with other academic institutions to advance our understanding of neuro-oncology, myasthenia gravis, ALS, and other fields and disciplines. Read about our Department's contributions to that conference here.
May
Duke plays key role in fracture prevention trial
A novel application of zoledronic acid, a bisphosphonate typically prescribed to prevent or treat osteoporosis, is being assessed in a large-scale trial for its potential to prevent fractures in senior patients with Parkinson's disease. Duke is an enroller in the trial supported by the National Institute on Aging, a division of the NIH, as well as the Parkinson's Foundation. The trial tests the efficacy of an IV infusion of Reclast. Read more about that work here.
Understanding the influence of spiritual beliefs on epilepsy care
In Uganda, a person who suffers the repeated seizures associated with epilepsy is most likely to seek help first from a traditional or spiritual healer, which may not be surprising considering that two-thirds of Ugandans say they believe seizures may be caused by spiritual influences, such as ancestral determinism, witchcraft, or demonic possession. Read about how Deborah Koltai, PhD, is working with these healers to help Ugandans living with epilepsy here.
June
Joint Duke/UNC Alzheimer's disease symposium highlights potential role of microbes and inflammation in Alzheimer's disease
More than 800 scientists from across the United States and overseas convened virtually for a joint Duke/UNC Alzheimer's Disease Symposium examining how microbes and inflammation influence Alzheimer's disease. Read about that symposium and what came out of it here.
Alumni Spotlight: Zaeem Siddiqi MD, PhD
When Zaeem Siddiqi MD, PhD, joined the neurology program at the University of Alberta after completing his residency and fellowship at Duke, he had just one other colleague specializing in neuromuscular disease. Now that team has expanded to five, with more on the way. In his "Alumni Spotlight" interview, Siddiqi talked to us about his current work treating patients while training neurologists and conducting research on myasthenia gravis. He also reflected on his time at Duke and the unexpected joys of being a new grandfather. Read that interview here.