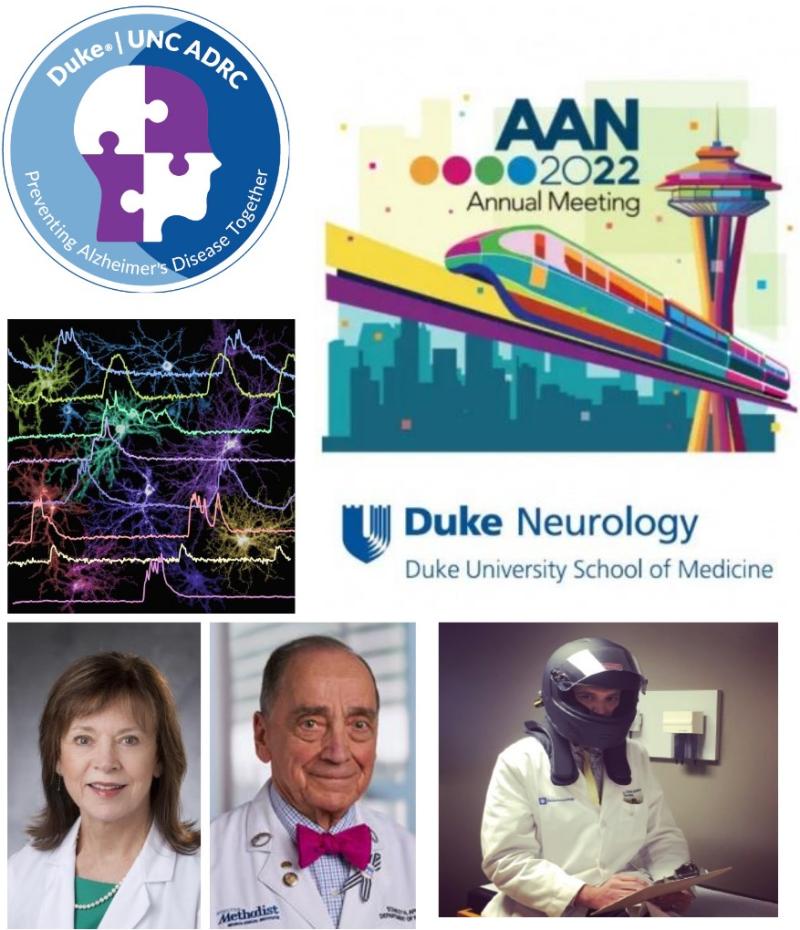 The Duke Neurology Department continued to grow and advance its missions of patient care, research, and training the next generation of neurology providers in 2022. Highlights from the first half of our calendar year include national and Duke-wide awards recognizing our faculty's contributions to the field of diversity, inclusion, and neurology as a whole. The same period also saw the growth of the new Duke/UNC Alzheimer's Disease Research Center and three of our neurologists don helmets and get in their racing care. Read more about these and other notable moments from our Department in the first half of 2022 in the paragraphs below.
January
Janice Massey receives AANEM Lifetime Achievement Award
The American Association of Neuromuscular & Electrodiagnostic Medicine (AANEM) awarded its Lifetime Achievement Award to Janice Massey, MD, Professor of Neurology and Senior Vice Chair of the Duke Neurology Department. This award, the highest the AANEM offers, recognizes Dr. Massey's three decades of service to patient care and the field of neurology. Dr. Massey is the second woman in the AANEM's history to receive this award and an international leader in both providing neurological care and mentoring generations of women neurologists.
February
Duke Neurology Research Round Up, February 2022
This February, members of our Department contributed to advances in our understanding the treatment of stroke, brain tumors and amyotrophic lateral sclerosis (ALS) as well as the genetics and origins of Alzheimer's disease. The 13 journal articles written or co-written by members of our faculty included publications in JAMA, Neurology, the British Medical Journal, and other publications. 
Faculty, Trainees Shine at NCNS
Andrew Spector, MD, delivers the keynote address at the 2022 meeting of the North Carolina Neurological Society, Andrew Spector, MD. Other highlights include a neuroanatomy course taught by Leonard White, PhD, and a "Residency Year in Review" section led by Lara Wadi, MD. 
March
Appel Returns (Virtually) to Duke
Stanley Appel, MD (Chair, Houston Methodist Department of Neurology), and Chief of the then-Division of Duke Neurology from 1969 to 1977, returned (virtually) to Duke this March for a Grand Rounds lecture on Treg Cell Therapy in Neurodegenerative Diseases.
Fellow Spotlight: Paige Sutton, MD
As a medical student, Paige Sutton, MD, received the following advice: choose a specialty where you won't constantly check your watch waiting for the day to end. Sutton chose neurology and neuroimmunology in particular and has never looked back. In her "Fellow Spotlight" interview, multiple sclerosis and neuroimmunology fellow Sutton talks about her time as a fellow so far, working with patients to make decisions that are best for their lifestyles and preferences, and enjoying hiking, playing the guitar and exploring North Carolina when she's not at Duke.
April
Duke Neurology at AAN 2022
The American Academy of Neurology (AAN) returned to an in-person meeting this April, bringing together neurologists from around the country and world to Seattle to learn about the latest research and clinical advances in neurology. Members of the Duke Neurology Department played a critical role in these proceedings this year, leading lectures and group talks, leading specialist groups, and presenting a dozen posters and scientific abstracts. 

May
Studying Early Signs of Dementia in a Younger, More Diverse Patient Population
The new Duke-UNC ADRC, a collaboration established in fall 2021 between Duke and the University of North Carolina, is focused on identifying age-related changes across the lifespan that impact the development, progression, and experience of Alzheimer's disease and related dementias. The center will also identify how factors that arise in early- and mid-life contribute to racial, ethnic, and geographic disparities in dementia. Recognized as one of the NIH Centers of Excellence, the center is one of 33 ADRCs nationwide, and funding for this project is expected to total $14.8 million over the next five years. The Duke/UNC center is part of a unique collaboration between the two universities that began in 2019.
June
Spector Receives Winn Inclusive Excellence Award
The Duke Neurology Department's Andrew Spector, MD, was the faculty recipient of the 2022 Michelle P. Winn Inclusive Excellence Award this year. Each year, the Winn Awards are presented to individuals from across the School of Medicine who have exemplified excellence, innovation, and leadership through helping to create a more diverse and inclusive environment.

Two Neurologists Share Passion for Fast Cars
When Matthew Ehrlich, MD, MPH, first joined the Duke University faculty as a vascular neurology fellow in 2016, he took note of the name of a colleague, Mark Skeen, MD, a professor of neurology specializing in multiple sclerosis. "I wondered, 'Hmm, could he be related to Mike Skeen?'" he recalls. Ehrlich, now an assistant professor of neurology, had always been an auto racing fan, and Mike Skeen is a North Carolina-based professional sports car racing driver who competes in the IMSA series for Korthoff Racing, the Michelin Pilot Series for FCP Euro, and the Trans Am Series for Doug Peterson Racing.