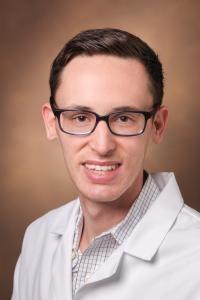 Adam Hartman, MD, didn't decide to specialize in neurology until the last year of medical school, but the puzzle-solving nature of the discipline, and the engaging, fast-paced tempo of acute neurology in particular, drew him in during his residency. Now, he's one of our new neurohospitalists, where he'll be treating complex cases in Duke Regional and Duke University Hospitals. For this week's "Spotlight" interview, Hartman talks to us about why he loves hospital neurology, what he's looking forward to over the next decade, and running and staying active when he's not at Duke.
What are your current responsibilities within the Neurology Department? What does a typical day look like for you?
I am one of the new neurohospitalists and am mainly based out of Duke Regional. In addition, I will be doing a few weeks a year on the general and consult services over at Duke Main as well as telestroke on the weeks in between.
How and when did you first get interested in neurology? How did you decide to specialize in hospital neurology in particular?
I didn't officially decide on neurology (was also debating between internal medicine) until the very beginning of my 4th year of medical school and right before the fury that is residency applications. I was really during my AI at this time that I realized that the puzzles and unknown that come with neurology were for me. 
I initially started residency thinking that there was no way that I would ever specialize in stroke and then knew immediately starting my junior year that the hospital life was for me. I didn't think that I would enjoy acute neurology as much and it turns out that is my favorite aspect of the field.  
How do you see the field of hospital neurology changing over the next 10 years? What developments are you most excited about?
One thing that I am looking forward to right now is the broad use of tenecteplase in stroke. While a few academic centers have already made the switch and others soon to follow with a number of studies ongoing, I think we will see a much larger migration towards this therapy in stroke in the coming years and probably before the 10 year mark. 
What's one piece of advice that you have for medical students or young residents interested in in-patient neurology (or neurology in general)?
It is always better to understand something rather than memorize it.
What other passions or hobbies do you have outside of the Department?
My husband and I live a fairly active lifestyle and one of my hobbies for many years now has been distance running. I'm hoping that some races are able to start up again in the area if we can ever get out of the realm of COVID. 
In this photo Hartman and his husband Winn pose after their backyard COVID wedding.