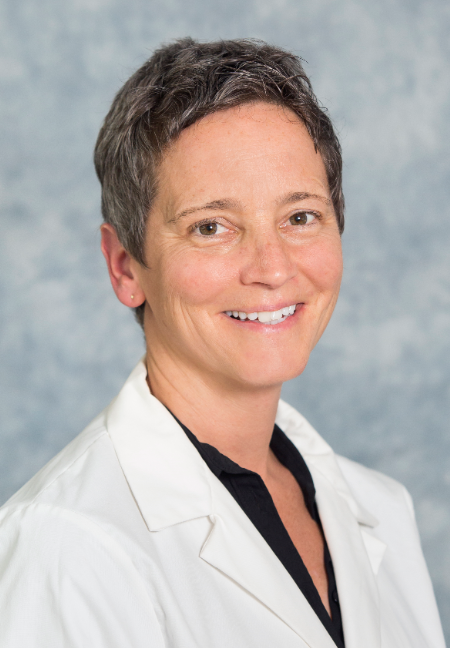 In 2016, Jodi Hawes, MD, participated in one of our first "Faculty Spotlight" interviews, speaking about how her background in physical therapy complemented her work as a neurologist, her ambitions beyond clinical care, and a book that inspired her to lead herself and others. Seven years later, Hawes returned for a new interview to discuss her priorities and hopes as our Division Chief for General and Community Neurology. She also shares the joys and challenges of her current role and loves of spending time with family, woodworking, and tai chi when she's not at Duke.
What are your responsibilities within the Department? What does a typical day for you look like?
Patient care, on a typical day I have one session of clinic. I also serve as a coach and on a typical day I might spend two hours coaching clients, individuals or groups. I serve as Associate Director of the GME Coaching Program and serve as a coach for the Duke Clinical Leadership Program and some other programs. Other responsibilities include meetings related to my role as 1L clinic director, General and Community Division Chief and member of the Clinical Competency Committee. I do cover a few weekends on the inpatient general neurology service.
What accomplishments or changes to the Division of General and Community Neurology are you most proud of since you became division chief?
The addition of our neuropsychology group to our division. They are an incredibly talented group of clinicians, teachers and researchers.
What do you see as your top priorities and challenges for the division for 2023?
Managing the uncertainty of the transition to DHIP and looking for the opportunities that the transition may provide.
What's one thing you wished more patients and their loved ones knew before coming to visit you in clinic?
The parking situation at Duke South is challenging and this makes coming to our clinic stressful for patients and families. I wish this wasn't the case but sadly this is the reality. I think if patients and families were better prepared for this challenge, as their trip would be a little less difficult. Parking is especially tough for our patients with physical and financial challenges.
What do you enjoy most about your work?
Connecting with people in meaningful ways to serve them.
What's the hardest part of your job?
Prioritizing and managing my time so that I can be fully present.
What passions or hobbies do you have outside of Duke?
Family, getting classes from a tai chi master, creating a woodworking space in my shed so I can learn woodturning, I bought the lathe and turning tools but I'm starting at ground zero, I may have put the cart before the horse.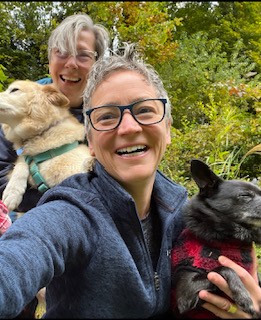 Hawes shared this photo of herself, her wife, Niki, and their dogs, Casper and Panther, in Black Mountain.