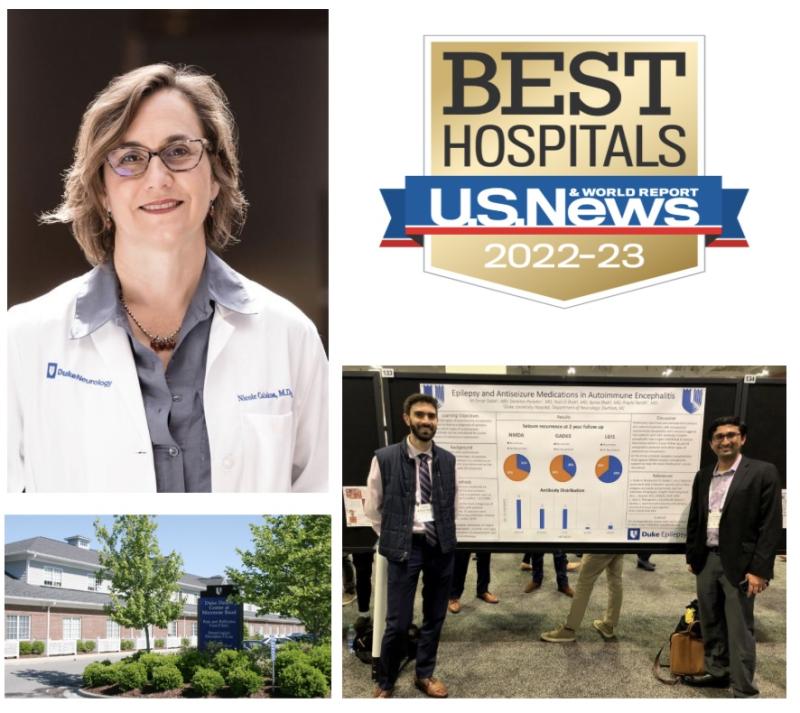 The Duke Neurology Department continued to build on its success in the second half of 2022. The final six months of 2022 saw Duke University Hospital receive national rankings for neurology and neurosurgery, our first endowed professorship dedicated to help treat and understand amyotrophic lateral sclerosis (ALS), and recognition as the country's second national center of excellence for dystonia among other achievements. Read the paragraphs below to learn more about these and other successes, or read part 1 of this 2 part series here.
July
U.S. News & World Report ranks Duke University Hospital 23rd in nation for Neurology & Neurosurgery
U.S. News & World Report ranked Duke University Hospital as the top hospital in North Carolina and the 23rd best across the nation for neurology and neurosurgery in its 2022-2023 hospital rankings. The annual rankings, which assessed more than 4,500 hospitals nationwide, analyze and integrate dozens of medical and surgical services.
August
APP Spotlight: Sarah Mason, PA-C
As a child, Sarah Mason, PA-C, loved listening to the stories her grandfathers, both of whom were doctors, told about their work helping patients. Now as the newest physician assistant in our Kernodle Clinic, Mason is treating a new group of patients with memory loss, headaches, seizures, and other conditions. This August, Mason talked to us about her fascination with the brain, the joys of connecting patients with resources and seeing them improve, and staying active through jogging, yoga, and time in the outdoors when she's not at Duke.
September
Duke recognized as Center of Excellence for Dystonia
This September, the Tyler's Hope for a Dystonia Cure Foundation officially recognized Duke Health as the country's second Center of Excellence for Dystonia. This distinction reflects Duke's growth as a national leader in dystonia patient care, education, and research as well as a continuing partnership with Tyler's Hope to help everyone affected by this disease.
October
Calakos Elected to U.S. Academy of Medicine
Nicole Calakos, MD, PhD, a professor of neurology and Lincoln Financial Group Distinguished Professor of Neurobiology, has been elected to the U.S. National Academy of Medicine (NAM). Election to the Academy is considered one of the highest honors in the fields of health and medicine and recognizes individuals who have demonstrated outstanding professional achievement and commitment to service.
November
ALS Community Endows First ALS Professorship
Amyotrophic lateral sclerosis (ALS) is a degenerative disease that leads to progressive weakness and ultimately death. As in so many diseases, the ripple effect of ALS is felt throughout a patient's circle of support. Driven to make a positive change for other families, Duke's ALS community is celebrating a significant milestone for future patients. 
https://neurology.duke.edu/news/als-community-endows-first-als-professo…
December
Duke Neurology at AES 2022: Highlights from Nashville
Members of the Duke Neurology Department advanced the field of epilepsy care, research, and education at the 2022 meeting of the American Epilepsy Society (AES) in Nashville this week. This year, our faculty and trainees gave two lectures and co-authored eight new abstracts, for a total of more than 150 submissions from Duke to the AES since 2000.