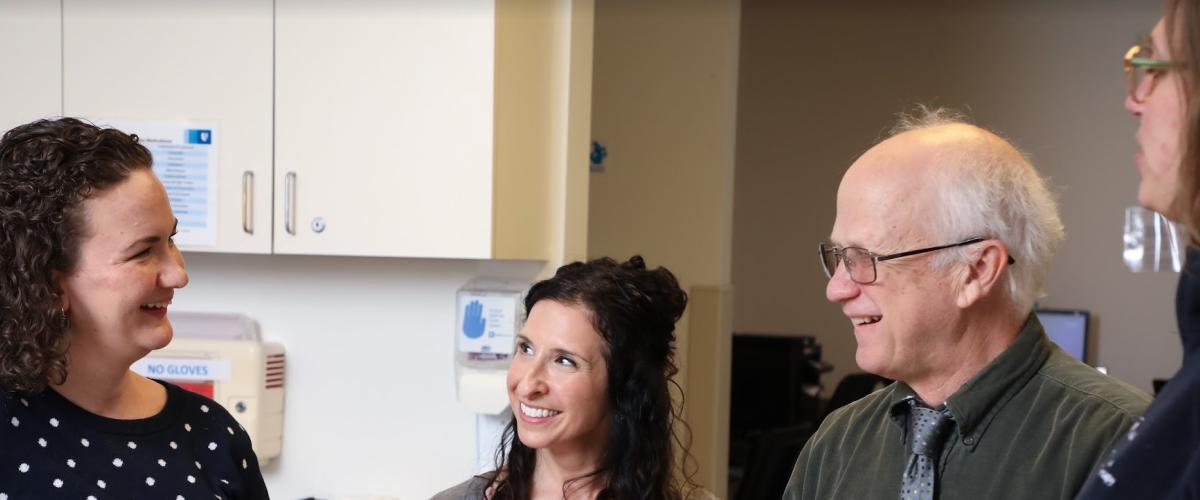 The Duke Movement Disorders Clinic conducts a variety of clinical trials to continually seek out better treatments for those affected by movements disorders. If you are interested in participating in any of these trials, please contact your movement disorder provider or email movdisres@dm.duke.edu.
Dystonia
Dystonia Biorepository -

A biorepository is a "storehouse" of blood samples and associated clinical data which we will use for research at Duke. Involved are questionnaires and a blood draw in one visit.

Neck Sensor for Cervical Dystonia -

This study is developing a clinical tool for measuring the effect of routine clinical treatment in patients with neck dystonia.

Accelerated TMS for Focal Hand Dystonia- This study is investigating the potential of utilizing multiple transcranial magnetic stimulation sessions, a non-invasive therapeutic approach, to alleviate dystonia affecting the hand.
Essential Tremor
JAZZ - This study is testing an investigational drug called JZP385 for treating moderate to severe essential tremor when compared to a placebo. Participation will last for around 21 weeks.
Huntington's Disease
ENROLL-HD -

ENROLL-HD is an observational study for patients with Huntington's disease and their families.

SAGE-HD:

This study is an investigation designed as a randomized, placebo-controlled, and double-blind trial to assess the safety and efficacy of SAGE-718, an oral capsule taken once daily for 84 days, in addressing cognitive symptoms among adults who have premanifest or early manifest Huntington's disease.

Neurocrine/KINECT-HD-2:

This study aims to investigate valbenazine as a potential treatment for HD-associated chorea.
Parkinson's Disease
LUMA -

This study is testing an oral medication that may slow the progression of Parkinson's disease. Individuals with early-stage Parkinson's disease (less than 2 years since diagnosis) between the ages of 30-80 may be eligible. There are multiple study visits over the course of up to 2.5 years.

Inhibikase -

This study is a randomized, phase-1 trial conducted in older adult or elderly healthy volunteer subjects, which will be extended to include Parkinson's patients. Its primary objectives are to ascertain the safety, tolerability, maximum tolerated dose (MTD), and pharmacokinetic (PK) characteristics of IkT-148009 capsules when administered in both single and multiple capsule dosages.

Takeda -

This study is testing an antibody infusion that may treat symptoms of multiple system atrophy (MSA). Individuals with MSA with symptoms for 4 years or less may be eligible. There are monthly infusion visits for up to 1 year.

Potential candidates are advised that enrollment delays may potentially occur due to disruptions in the supply chain.

DANCE -

This study is testing a new video motion capture system for movement disorders. The ultimate goal is to refine a motion capture algorithm to make telehealth visits more accurate. Both people with Parkinson's disease and people without neurological disorders (example: care partners) are eligible. There is one study visit where your fine motor movements and gait will be recorded on video.

DBS Predictive Study -The study aims to evaluate Parkinson's disease patients considering deep brain stimulation (DBS) during OFF/ON evaluation. It involves collecting data points throughout the DBS workup and utilizing a smartwatch to track symptoms before and after the DBS procedure. The study involves two visits; one before the DBS procedure and another during the first DBS programming session.

TOPAZ  - This trial is testing if a bone-strengthening drug called zoledronic acid can help prevent debilitating hip fractures in Parkinson's Disease. Study Contact: 1-800-473-4636 or visit www.topazstudy.org.

wAID-PD - This is a web-based automated imaging study. Anyone with Parkinson's disease, PSP, and MSA are considered for this study. There are 2 visits. One visit will include a questionnaire and an MRI scan and another will take place 12-18 months after the first visit as a follow-up.