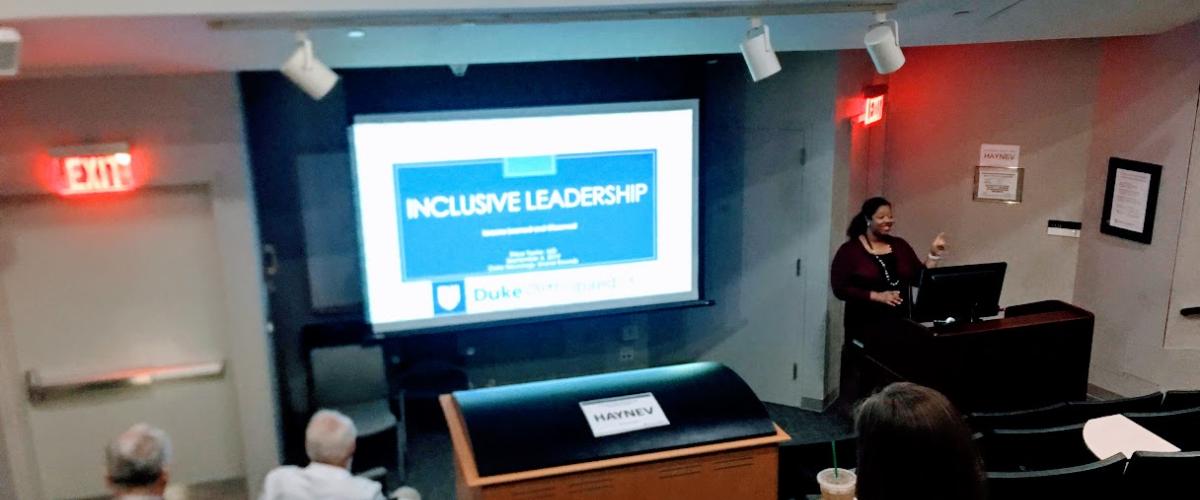 The Duke Neurology Department recognizes the importance of incorporating training in diversity, inclusion, and equity into its education, not just during onboarding, but in a sustained manner, for newer and established members of our Department.
To that end, Clinical Neuroscience Grand Rounds, our main continuing education activity for faculty, trainees, and staff, includes lectures to help members of our Department learn more about their own biases, health disparities in neurology, systemic racism and its detrimental effects on health, and other related topics. Speakers include members of our Department as well as national leaders in their fields.
Recent lectures in this series include:
Reducing Inequities in Academic Neurology - Nimish Mohile, MD (Univ of Rochester)
The Neurobiology of Alcohol Dependence - Alex Marshall, PhD (NCCU)
Neuropsychiatric Comorbidities and Medication Prescribing for Persons Living with Dementia in North and South Carolina Kim Johnson, MD, (Duke Neurology)
Disparities in Stroke: Improved Care - Beth Marriott, MD (Duke Neurology)
From Challenges to Opportunity - Addressing Diversity in Medicine - Alyx Porter, MD
Social Determinants for Stroke - Salvador Cruz-Flores, MD ( Texas Tech University Health Sciences Center at El Paso)
Caring for the Homeless - Avik Chatterjee, MD -(Boston University School of Medicine)
Racial Health Disparities in Neurology - Andrew Spector, MD (Duke Department of Neurology) (Part 1) (Part 2)
Women in Neurology - Christa Swisher, MD (Duke Department of Neurology)
Inclusive Leadership - Erica Taylor, MD - (Duke Department of Orthopaedic Surgery)
White Privilege - Patrick Jeffs, PhD
Bystander Intervention - Ada Gregory (Duke Office for Institutional Equity)
Health Disparities in Sleep Medicine - Chandra Jackson, PhD (National Institutes of Health)
An archive of all our Clinical Neuroscience Grand Rounds over the past five years is available for all members of the Duke community. View that archive here.