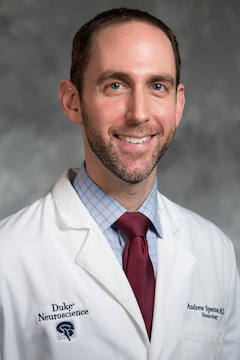 As our Vice Chair for Inclusion, Diversity, and Empowerment, Andrew Spector, MD, is charged with building and maintaining inclusive excellence across the Duke Neurology Department. In this interview, Spector talks to us about how he hopes to improve diversity and inclusion in our missions of  patient care, research, and education. He also discusses how commitment from leadership as well as individuals is necessary for long-term progress, how he's staying connected to inclusion and anti-racism events across the country, and other topics.
How long have you been engaged with the D&I work in the department? 
In early 2018, our first Director of Diversity and Inclusion for Neurology, Dr. Kenyon Railey, brought me on as the Associate Director, and I succeeded him in the role in July 2018.  
Your title is now different. What does it mean that the title was changed to Vice Chair? 
The change in title was meant to reflect the high degree of value that the department leadership places on our D&I work. Being included among the vice chairs gives me a seat at the leadership table to ensure D&I best practices are infused in department activities from recruitment to patient care
So would you say you get the support you need from the Duke Neurology leadership?
Absolutely! The commitment to inclusive excellence comes from our chair, Rich O'Brien, and the Chief Administrator, J.T. Solomon. They have committed time (both their own time and provided me protected time) and financial resources to make sure that our work is successful. We would never have accomplished what we have without their unwavering support and commitment. There's also a great commitment from the rest of the department as well. Our Diversity and Inclusion Committee is very large, composed of 45 staff, trainees, APPs, and faculty. There's a collective urgency to ensure Duke Neurology is fully inclusive and fully anti-racist.  
What kinds of things are you doing to achieve these goals?
We have spent the past two years making sure our department was inclusive. We started with increasing the transparency in the department by creating a faculty handbook that included policies and procedures so new faculty would know how to navigate the complex world of academic neurology. We started publishing minutes from faculty meetings, and junior faculty were added to the Academic Promotions and Tenure Committee to observe the promotions process. We then moved on to ensuring the department was accountable to its stated values. We performed five self-assessments, including a census looking at the current state of diversity (broadly defined) in the department, a survey of diversity and inclusion efforts to ensure they were providing benefit, reports on grand rounds speakers and faculty salaries to ensure gender equity and in the case of grand rounds, racial equity, and an analysis of our residency recruitment process to ensure that we are equitable with regard to interview offers. All of this information is published for the department members to review. We are about to move into our third phase, which is a focus on improving the inequities we discovered in our self-assessments. In addition to the above, we've instituted policies against tokenism so underrepresented members of the department are never used for publicity due to their race or gender.
What have you done from the standpoint of education?
One of our earliest projects was the creation of a Diversity and Inclusion Grand Rounds Series. The topics we've covered are listed on our Diversity and Inclusion website. We believe that these topics apply to everyone, which is why we focus on Grand Rounds instead of, for example, our resident noon conference, to provide this education. I also send out an email to the department each month with teaching points about inclusion and anti-racism. We recently published an anti-racism resource list as well as a list of local Duke resources to help address any concerns about racism or inclusion. 
How do you stay connected to other inclusion and anti-racism work going on around Duke and the rest of the country?
I am very honored to serve with two national organizations on their inclusion and anti-racism work, the American Academy of Neurology and the American Academy of Sleep Medicine. I'm a member of the AAN's Diversity Officer's Subcommittee. For the AASM, I have the privilege of chairing the Diversity, Equity, and Inclusion Committee. I also represent Duke Neurology along with Will Alexander, MA on the Duke University School of Medicine Inclusion Council. 
Neurology has historically failed to attract as many Black medical students as other fields. What are you doing to correct this?
I'm currently working with Dr. Railey on a study of attitudes toward neurology among med students of different races. We're looking to see if there are any specific reasons for why we see such low rates of Black applicants into neurology. We are also in the process of developing a program for Black and other Under-represented in Medicine college students to shadow Duke neurologists to get early exposure to neurology. The Neurology Residency has worked with the Student Interest Group in Neurology at regional Historically Black Colleges and Universities (HBCU)  medical schools to foster interest in neurology. In addition, I worked with Dr. Shaun Smart at the University of Texas at Houston to create the Society of Black Neurologists. Among its many missions is to foster interest in neurology among medical students and provide Black medical students with Black neurologists as mentors to reduce the likelihood that they choose a different specialty because they don't see anybody who looks like them in neurology. As of today, we've grown to 195 members from college students to attendings. As one of the group's founders, I have worked with a team of colleagues to advocate for a UiM Section at the AAN. Having representation at the AAN to help organize development opportunities to encourage more UiM students to choose neurology will be a big step forward. 
Duke does not have many faculty members from groups that are Under-represented in Medicine (UiM). What would you tell a UiM trainee or faculty candidate who was considering coming to Duke.
We readily admit that our diversity numbers are not good enough, and we're actively working to rectify that. However, there are things that we are doing already to ensure that UiM trainees and faculty can thrive in our department. As I mentioned before, we've done a lot of work on transparency to make it easier to navigate the department, which facilitates promotions. We already have the policy on tokenism I mentioned before. And I'm very protective when it comes to the diversity tax. We have a 45-member Diversity and Inclusion Committee and a Vice Chair for Inclusion, Diversity, and Empowerment already, which means any work someone new chooses to do in this arena is just that, a choice. No one is being recruited to do this work, rather, they can focus on their careers and pursue their interests. For residents and fellows, we also have a Duke Minority Housestaff Association that provides a community of support for UiM trainees. I'd also mention that Durham is a fantastic place to live. We are a majority minority city with approximately 40% Black residents. Race is just one of many ways Durham is diverse, and the diversity in Durham is what makes us one of the best places in the country to live. 
What does it mean to you to be a White man doing inclusion and anti-racism work?
I hear the same thing from so many Black people I speak to about this, which is that they're tired of fighting these battles. The combination of racism they experience and the burden of fighting against it is really too much. As a White man, I don't have the burden of racism fighting against me, so I can at least shoulder some of the anti-racism work. I made a decision years ago that if I'm not part of the solution, I'm part of the problem, and I refuse to be silent. This is work that White people must be doing. 
Your title also includes "Empowerment." What types of things do you do to empower the Department?
Empowerment goes a step further than diversity and inclusion. Not only do we want people to feel included, we want them to progress in their careers. Another way of phrasing this would be recruitment, retention, and promotion. For example, we're working on a project to help the administrative staff learn how to earn promotions. I help connect people to resources, such as facilitating meetings with our post-doctoral fellows and the new assistant dean for graduate and postdoctoral diversity and inclusion. And if someone has a concern, I help amplify the concern to make sure that it is addressed by department leadership.