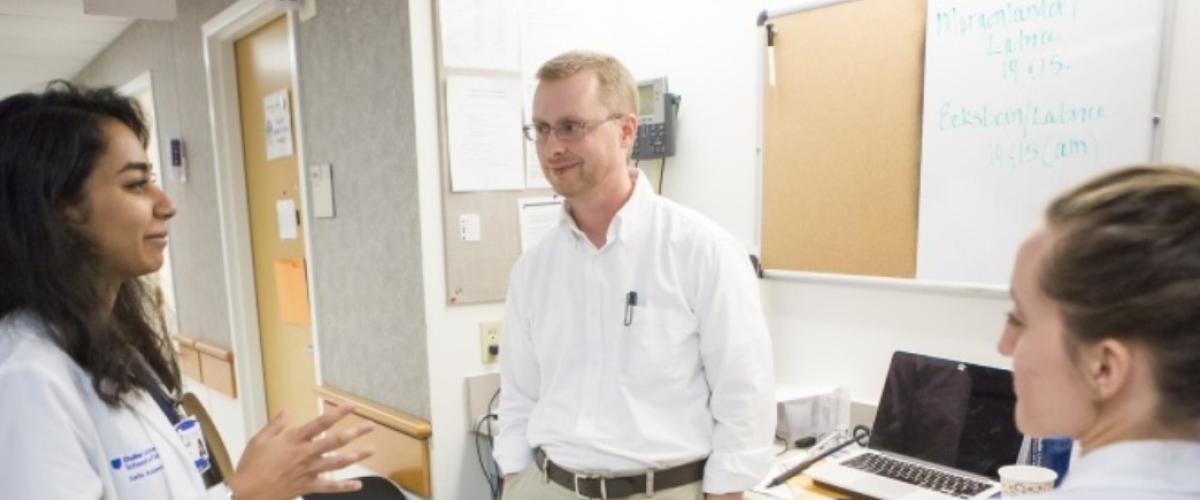 Thank you for your interest in the Neurology Residency Program at Duke. Selecting a residency program can be a daunting task. In addition to training you to be a neurologist, our residency program will give you more and better options toward reaching the career of your choice.
Read more about our program leadership in the paragraphs below.
We are able to offer this training in a vibrant and progressive environment at Duke University and in the rapidly growing city of Durham and the Triangle area. The Department of Neurology, Duke University, and the surrounding community are committed to providing an environment where people are judged only on the quality of their work and the strength of their character.
At Duke, our first goal is to help you become an excellent neurologist, someone who is well-trained in all aspects of general and sub-specialty neurology. In addition to being a tertiary care center where interesting cases are sent from around the state and country, Duke University Hospital serves as a community hospital for Durham and the surrounding region.
Along with the Durham VA Medical Center, this provides us with a great mix of bread-and-butter neurology and unusual or unexplained cases that arrive with stacks of medical records. The volume and diversity of the patients that come through our inpatient wards and outpatient clinics ensure that every resident has ample opportunity to gain expertise in all aspects of neurology. While we feel that our clinical program is already outstanding, we are always looking for ways to improve. For example, we are in the process of reformulating the makeup of our inpatient teams to improve coverage for patients and support for the junior residents and interns. We are also starting tracks within the program to provide additional resources and guidance for trainees interested in careers in research or education/administration.
Our faculty is made of general neurologists and subspecialists in all areas of neurology, including strong programs in dementia, epilepsy, movement disorders, neuromuscular disease, neurointensive care, neuro-oncology, and vascular neurology. In addition, our faculty's interests range from clinical neurology and patient care to those whose focus is clinical or laboratory research. The consistent thread that ties the faculty together is a strong interest in teaching and training residents, medical students, graduate students, and fellows. Many members of the faculty, including myself, have left successful careers to return to the academic realm mainly out of a desire to teach and work with trainees and students.
In addition to providing excellent clinical training, our residency program offers opportunities for residents to become involved in other academic pursuits, including clinical research, teaching, and administration. All residents are required to participate in an academic project (research or performance/quality improvement). Duke offers many chances to learn about research methods and to participate in research projects. There are also formal and informal opportunities to teach, including participation as teaching assistants for the medical student neuroscience/neuroanatomy course. Due to the many opportunities available to them during training, our residents are able to not only make an informed decision among general neurology and different subspecialties, but also among different career paths including private practice, academic clinical pathways, or academic research pathways.
That is what we offer. What are we looking for in a resident? We consider our residents to be partners in our program. While their primary focus should be their own training, we aim to recruit residents who will become truly involved with the program -- in aspects of administration, teaching, recruiting future residents, and improving the program. We want people who will take what is already a very good program and make it better, both while they are here and after they have moved on.
If this sounds like the kind of program that you would be interested in, I hope you will take a closer look at the Duke Neurology Residency Program.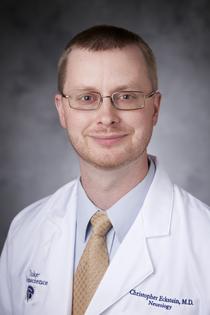 Christopher Eckstein, MD
Director, Residency Program
Assistant Professor of Neurology
Welcome to Duke Neurology and thank you for your interest in our training program. I spent my preliminary/intern year, neurology residency, and MS/neuroimmunology fellowship at Duke and can attest to a well-rounded educational curriculum that allows for an individualized experience.
I currently practice both at Duke and at the Durham VA Medical Center. My time at Duke is spent rounding with residents on the inpatient consult service, overseeing the chief resident continuity clinic, and practicing both neuroimmunology and general neurology in the outpatient setting. At the Durham VA, I am the director of the region's only MS center. I am passionate about medical education both in the clinical setting as well as in the form of curriculum design.
Whether your interests are in research, education, or foundational skills for independent practice, we are committed to training well-rounded clinicians who complete their time here with access to a full spectrum of career opportunities.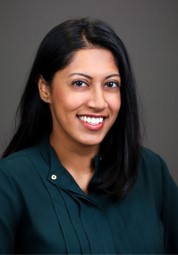 Suma Shah, MD
Assistant Professor of Neurology
Associate Director, Residency Program
Medical Director, Duke Neurology of South Durham
As the associate program director for the Duke Neurology Residency Program, my role is to support the program director and the residents. I work with Drs. Eckstein and Shah with aspects of the residency such as scheduling, planning educational events, and program improvement projects. For the residents, I am one of the attendings in continuity clinic. My primary goal is to keep the residency responsive to resident concerns and help implement suggestions for improvement. While I believe our residency is already a great place to train, there's always room for improvement and personalization of that training.
In addition to serving as the APD, I am the Vice Chair of Inclusion, Diversity, and Empowerment for the Department of Neurology. As such, I am particularly dedicated to ensuring that the residency is a welcoming and inclusive place for all of our trainees. I am happy to discuss the department's efforts toward full inclusive excellence with anyone interested in training with us.
I feel strongly that everyone who trains with us will get an outstanding education while being treated respectfully as a colleague. We strive to provide top-notch training in all aspects of medicine, including research, administration/leadership, education, and, of course, clinical. We have opportunities for residents to excel in any or all of these areas. Our goal is to help our residents become part of the next generation of leaders in whatever career path they choose.
I hope you consider applying to Duke. If I can answer any questions, please feel free to email me at andrew.spector@duke.edu.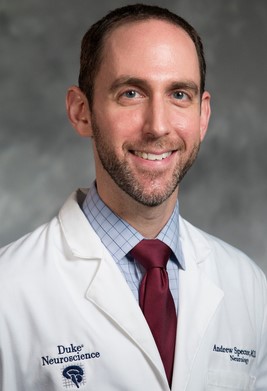 Andrew Spector, MD
Associate Professor of Neurology
Associate Director, Residency Program
Thank you for your interest in the residency program here at Duke. In addition to my role as an Associate Program Director for the residency, I also work with residents on the inpatient stroke service and as one of the attendings in the resident continuity clinic. I have a strong interest in medical education, which is something that is shared among the teaching faculty.
I truly believe that you will be getting a well-rounded experience in your training as you will have exposure to multiple subspecialties, both in the clinical and research settings. Whether your career interests are focused on developing your clinical skills, academics, research, administration, or a combination of these areas, we have an abundance of resources to help tailor your experience to your interests.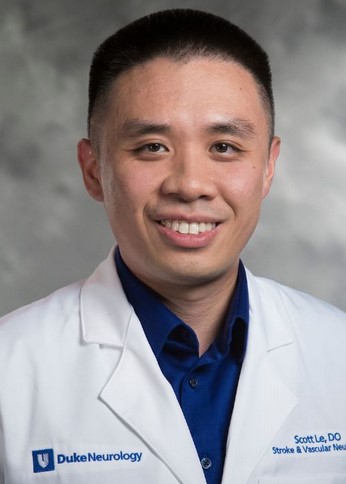 Scott Le, DO
Assistant Professor of Neurology
Associate Program Director, Residency Program